Tag Archives:
Video Games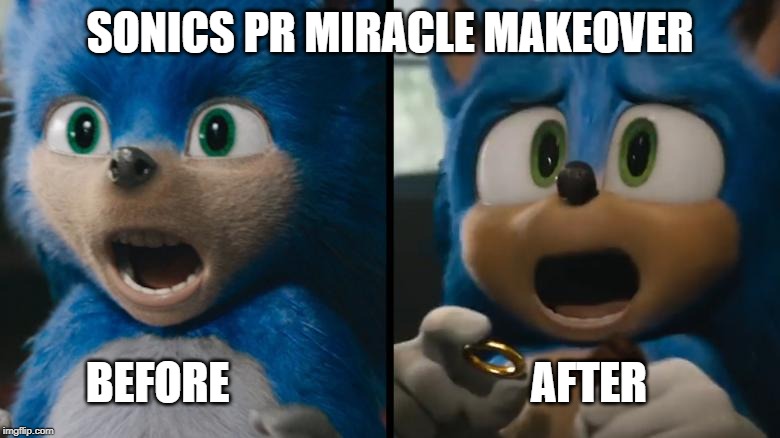 There has been two flashbacks and one flash-forward this week on MakeSandcastlesNotWar.  The latest episode of AHS: 1984 provided a foreshadowing clue about what season ten may be (Loch Ness Monster, Bigfoot, other myths!).  Disney+ was just released, which allows Disney fans to stream both old and new TV series/movies throughout the years.  And finally there was news that Frasier is planning to be rebooted next year (But I don't know what to do about those Tossed Salads and Scrambled Eggs).
Being that it is Friday, its only fitting that we discuss yet another flashback post for #FlashbackFriday.  Today's flashback-themed post revolves around the PR nightmare involving the notorious Sonic the Hedgehog.
Back in May, Sonic the Hedgehog was utilized for the new live-action film Sonic the Hedgehog.  The trailer showcased a presentation of Sonic that was just…BAD… REALLY, REALLY BAD.
Audiences nationwide panned the idea of the live-action Sonic, pointing out various features that don't fit with the original character.  The PR nightmare got so huge that hundreds of thousands of users signed a petition online for an immediate change for the look of Sonic the Hedgehog.
Half a year later and a new trailer dropped for Sonic the Hedgehog, featuring a brand-new look for Sonic.  The differences between the two are just absolutely jaw-dropping.
The new Sonic the Hedgehog bears a much similar resemblance to the Sonic the Hedgehog video game series.  Larger eyes, spikier hair, tanner fur on his body.  And the best part? No creepy human teeth!
Sonic the Hedgehog will release in February 2020.  After a grueling few months, Sonic finally got a much-deserved makeover.  This is one of those PR nightmares that rejuvenated to become a PR miracle.  All it needed was enough audience attention in order to get to the root of the problem.  What came as a result was a much more anticipated live-action film of Sonic.
This PR miracle caps off a great week of flashbacks.  Sonic the Hedgehog will drum up more anticipation when it releases in the coming year.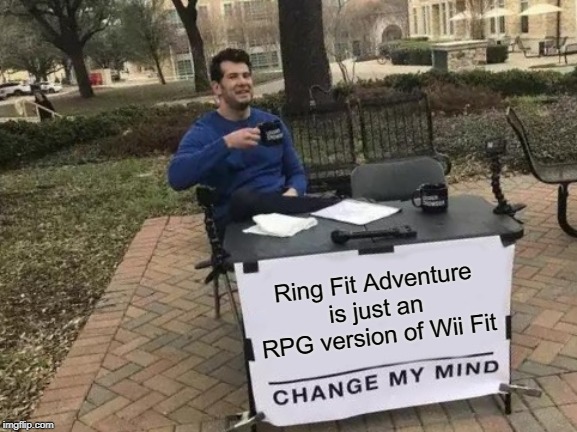 Are you looking to get back into shape?  Do you enjoy playing lots of video games?  Ever wanted to play a game AND get healthier at the same time?
Well folks – there is a video game like that coming out real soon.  Nintendo recently announced an exciting title for the Nintendo Switch called Ring Fit Adventure.
Ring Fit Adventure is a new fitness game for the Nintendo Switch.  It is an platform-adventure RPG game where you play as a hero dressed as a gym rat who is partnered up with a sentient ring named Ring.  You go through different levels, defeating various bosses along the way.  The main objective is to defeat a muscular purple dragon in a leotard.
You control your character by using the ring and leg strap for the game.  Throughout each level, you conduct different physical exercises to fight off various enemies.  Moves such as squats or yoga poses are used to attack foes during each fight.
Not only are you getting fit from the different poses, but you level up as you progress through the game as well.  Each new level will feature tougher enemies each time.  As you level up throughout, the moves will even become much harder too.
To put it bluntly, Ring Fit Adventure plays as a cross between Wii Fit and Final Fantasy.  You're fighting off enemies with various attacks and getting healthier at the same time.  It's the perfect combination that makes for a truly innovative game.
With that, Ring Fit Adventure looks like another exciting title to play this holiday season.  This is the kind of game that combines an interesting RPG storyline with some healthy exercise.  Ring Fit Adventure will surely get you into shape.
Be sure to get Ring Fit Adventure when it releases on October 18th.