Lately there's been so many great content releasing on Netflix this month that it's hard to find the time to binge-watch them all.  I am currently in the middle of season five on Arrow and it's been amazing so far.  Arrow is one of those better superhero series, unlike some of the other programs (I'm talking to you, Iron Fist!).  The plot is easy to follow, dialogue is great to read into, and the overall violence is kickass for being rated TV-14.  Watching the Arrow beat up the bad guys is awesome, but what's even better is watching him do the salmon ladder.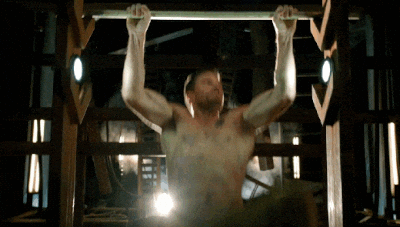 Oliver Queen, the main character that becomes the Green Arrow at night, exercises with the salmon ladder as part of his training.  This intense exercise involves him pushing himself up to the top with the bar.  Seeing this superhero push himself to do this each season is incredible to watch (let's be honest, what America needs right now is a whole episode of Oliver Queen performing the salmon ladder shirtless!).
As hard as the exercise looks, there is a way to complete it.  The exercise a multitude of body parts including your core, upper body, ribs, intercostals, back muscles, shoulders, triceps, and lats.  You'll mostly have to work on your upper body strength and perform some core exercise to get into the right shape.
To start the exercise, you'll want to warm-up with some pull-ups first.  Doing some pull-ups will get you into the movement of lifting up into the next rung.  As you are pulling up, quickly push your body up higher and move the bar out and up the next level.  Continue with this movement until you reach the very top.
If these directions sound easier than done, you should practice with some more pull-ups first.  Again, performing pull-ups will help you get used to the movement you use to do the salmon ladder.  Watching clips of Oliver Queen doing it a few times will help as well (watching someone is part of practicing too!).
This something I really want to try out!  I have been going back to the gym lately and would really like to start attempting this challenge.  While I haven't been able to perform the salmon ladder yet, I thought it was an awesome part of the Green Arrow's training.  It's definitely a cool exercise that will help me bulk up.
Working out doesn't have to be so monotonous.  Watching Oliver Queen perform the salmon ladder made me want to try out new exercise moves as well.  You should check out other unique exercise programs if you want to stay in better shape.
Until then, keep working hard on the salmon ladder and don't give up until you reach the top!