This past Sunday was the season finale of Ryan Murphy's Pose.  After a month and a half of being introduced to NYC's ball culture in the late 1980s, the first season comes to an end.  It was fierce, yet surprising episode that came with lots of happy endings for various characters.
Here's what went down during the season finale of Pose:
Summary
After dreadful weeks of working as a dancer and being homeless, Elektra gets taken in by Blanca.  Elektra joins the House of Evangelista to help compete with the House of Ferocity.  Blanca sets up Elektra with a job at Indochine as a hostess.
Pray Tell gets set up on a date with a hunky bartender that works at all of the balls.  The date goes off well, leaving Pray Tell with a new man in his life.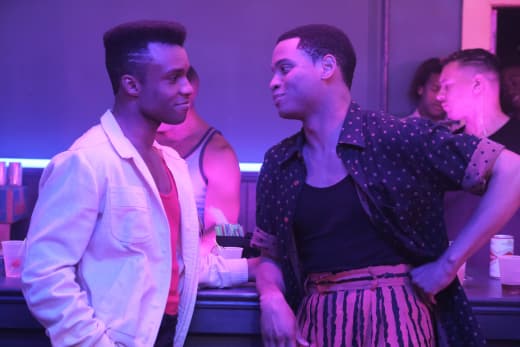 Damon receives exciting news that he and Ricky were picked to be professional dancers for Al B. Sure!  What's even more exciting is that Damon even received his scholarship for his second year at school.
In the meanwhile, Patty decides to let Stan move back into the house.  The two are starting to patch things up after she found out about the shocking affair going on.  Even still, Angel decides that she does not want to see Stan anymore.  Angel feels as though Stan should back home to his wife and children.
All of this led up to the final part of the episode – the princess ball.  The House of Evangelista competed against the House of Ferocity.  There was voguing, dancing, turning, spinning.  Most important of all, there was POSING.
It was a fiery competition between the two houses.  In the end, the House of Evangelista won a majority of grand prize trophies during the competition (with the help of Elektra of course!).  For the Mother of the Year Award, the winner went to… Blanca Evangelista.
That's right – Blanca ended up being Mother of the Year.  It was such an uplifting moment during the episode of such an amazing series.  After all is said and done, Blanca won the ultimate prize.
And that's the conclusion to the first season of Pose.  It was an incredible first season that featured a colorful cast of characters who come with amazing storylines.  Who knows what's in store for the characters next season.
If there is anything to conclude this post with, its this – Work. Live. POSE.