On February 5th, 2017, the New England Patriots won the 51st Super Bowl.  It was a close game by the end of the 4th quarter as the Patriots were coming back from a rough 1st half.  By the end of the 4th quarter, the Patriots and Falcons were tied up in the end, leading to the first overtime game ever in Super Bowl history.  Both teams were tied 28-28 when they went into overtime and the stake were higher than ever.  In less than 4 minutes, James White dived into the end zone for the final 6 points.  TOUCHDOWN!!!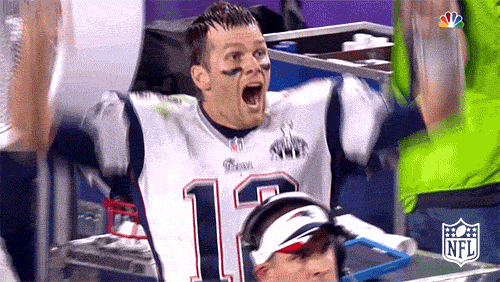 It was one of the most amazing comebacks in Super Bowl history.  The Patriots were down by 28 points, only to rake in the last 6 points while they were in overtime.  Even when they were down and out, the Patriots pushed harder than ever to grab their 5th Super Bowl win.
So how did New England celebrate their triumphant victory on Sunday?  By holding a parade, of course!  Mayor Marty Walsh announced that the Patriots Parade would take place in Boston on February 7th, just mere hours after their victory.  Since I was free on Tuesday, I had the golden opportunity to become a part of an incredible and victorious celebration.
The streets of Boston ran red, white and blue as the Patriot fanatics entered the city.  Hundreds of people cut school (and work!) to become a part of the celebration here in Boston.  Even the snowy, cold weather wasn't going to stop New Englanders from attending the parade!
Their route started at Boylston street and would end at City Hall Plaza.  The parade itself would begin at 11:00, but the floats didn't actually start moving until 45 minutes later.  Regardless of the late start, fans cheered on the Pats as they were heading their way.
With my body shivering out in the cold, I stood within the barriers in City Hall Plaza with my friend Andrew to witness the amazing celebration (shout-out to my friend Andrew Carr for attending this awesome event with me!).  Colorful confetti shot from cannons, scattering around the streets as fans cheered on for their favorite football team.  Even though the weather was crappy, the overall atmosphere brightened up with positivity around the city.  Patriot fans from all walks of life were here to celebrate their 5th Super Bowl win.
All of the hard-working Patriot players and staff danced around their floats as they passed through different areas of Boston.  Tom Brady, Rob Gronkowski, Julian Edelman, Jimmy Garoppolo, LeGarrette Blount, Stephen Gostkowski, and other players celebrated their 5th world Championship (Bill Belichick even got in on the party as well!).  Our hard-working players deserved to party, especially after that incredible comeback near the end of the 4th quarter!
This was such an incredible event to be a part of!  Thousands of fans cheered every minute as their favorite players partied down the streets of Boston.  I have seen more positive vibes around Boston today than I ever have this past month.  So many people cheered and high-fived me as I wandered around City Hall Plaza.  Even those that were working near the parade got in on the fun as well!
With all of the commotion happening around the streets, I realized that it was so much more than about the Patriots winning their Super Bowl.  Seeing Patriot fans come together on a cold and snowy day really showed what Boston is all about.  Boston is a city that embraces the underdogs, cheering on those that work harder than ever to get to where they are now.  This is a city where people work diligently to prove how worthy they are to society.
If we find something that doesn't fit right with our city culture, then we work our asses off to fix the situation!  Boston is actually one of the most liberally-progressive cities in the United States.  With Massachusetts being the first state to legalize gay marriage in 2004, it's no wonder that Boston is one of the most liberal cities in New England.  And with that note, I have to point out again that cannabis was made legal in Massachusetts BEFORE California during the elections!
Even when facing such uncertainty and anxiety in the world, Bostonians don't back down from a challenge.  Just like the Patriots winning the 51st Super Bowl, Bostonians fight each day to solve their personal dilemmas from all aspects of life.  It's times like this where we realize that we can overcome any obstacles that stand in our way.  Nothing will ever get in the way of our personal ambitions that we strive for in this city.
And with that, I must give a special thanks to the New England Patriots: thank you Patriots for showing the world what Boston is all about.  A special thanks to all Patriot players for playing as hard as they could to clinch their 5th Super Bowl win in the nation.  I have to also thank Tom Brady, the true GOAT that helped lead an incredible team to another Super Bowl victory.  Thank you for claiming another win, helping us walk even taller in this complex world.