One of my favorite tasks of my part-time job, when I am not busy running the show here at MakeSandcastlesNotWar, is conducting marketing around the area.  It's a freeing and fun task where I roam around a city or town in Massachusetts to talk with other businesses.  Sometimes these business discussions don't come through right away or they get shut down within minutes (which is part of the risk of marketing!).  When the talks end up going well in my favor, I exchange the promotional materials for business cards and build the connections from there.
Marketing is my favorite aspect not only because I have gotten good at it over the years, but also because it subtly teaches me to push other angles in the process.  Every new business, whether directly or indirectly related to my line of work, can be utilized in the process.  There are always different ways to captivate new audiences from other forms of businesses or industries.
Even still, there is one common tactic I work with throughout each marketing outreach trip.  That special tactic is simply known as quid pro quo.
Quid pro quo is a Latin phrase meaning 'something for something'.  In business terms, it involves an exchange of goods or services whereas one transfer is contingent upon the other.  One business conducts a favor for another business for exchange to help them in the process.
With my case, quid pro quo starts through educating audiences about my line of work.  Rather then jump into my ideas, I ask about general information about the place itself.  I search for something eye-catching, something I could fixate my beginning conversation on.  It doesn't have to be within the place itself; rather, the discussion could start with ARRIVING to the destination as well.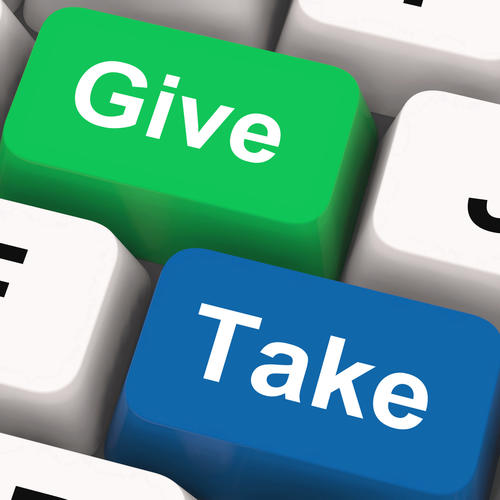 Asking about the audiences' business first sparks genuine interesting in learning about what we have to offer.  They will most likely respond positively when they discuss they line of work first rather than being bombarded with overwhelming information on your end.  That's where the benefit of quid pro quo happens – they will most likely accept the connection when they learn how it will enhance both businesses in the long run.
In the end, quid pro quo is the business tactic that helps out most when conducting marketing outreach.  Quid pro quo is great for sending positive connections (and vibes) among other businesses.  Helping out other businesses will help your business in the long run.
You can all send positive connections through quid pro quo.