While I've been finishing up the newest season of Scandal on Netflix, a lot of people have been raving over the newest season of Game of Thrones.  Game of Thrones is the most popular HBO series that has won the highest amount of Emmy awards so far.  George R.R. Martin's famed series has taken off since its start and fans are still reading his novel to this day.  Game of Throne (GOT) fans can't get enough of the amazing fantasy series since it began in 2011.
It's no secret that the GOT brand has been sweeping the stores.  Promotional products such as apparel, calendars, mugs, toys, posters, blankets, games, and many other items have been popular among its audience.  To think that all of this genius marketing promotion stemmed from Martin's novel A Song of Fire and Ice that became a hit series on HBO.  Not only has the show gained so much popularity, but the GOT brand itself has spread to other marketing platforms.  One of those platforms hit one of the most famous landmarks of Boston.
Brace yourself folks – Game of Thrones night is coming to Fenway Park tonight!  Fenway Park is promoting a GOT theme in honor of the latest season dropping on Sunday.  The Red Sox are facing off against the Toronto Blue Jays at 7:10 PM in this epic GOT them night.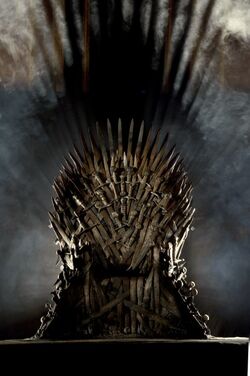 For an added promotional bonus, each ticket package through the special offer will include a Ser Andrew Benintendi bobble-head.  Other than the bobble head, fans will have the chance to sit on the infamous Iron Throne for a photo opportunity (which runs from 5 PM-5:40 PM).  The opportunity will be offered on a first-come, first-serve basis only.  Serious GOT who are in the Boston area should check out this awesome Red Sox game tonight!
As a Boston PR pro, I have to say that this idea is GENIUS.  This event we have going on is what is known as a cross-marketing technique.  Cross-marketing is a unique form of cross-promotion where companies include extra appeals to the product or service they offer.  In short, it's when one company works with another company to promote each other in one single marketing strategy.  The trick is searching for a product/service that would complement your work as well.
One great example I can think of were the Mortal Kombat X franchise beers that were released last year.  Sound Brewery in Poulsbo, Washington released three limited edition craft beers based on some popular characters from Mortal Kombat.  Raiden, Scorpion, and Sub-Zero were the main characters from the game Mortal Kombat X that was coming out soon; Sound Brewery cross-marketed their brews with the Mortal Kombat brand for an ingenious marketing tactic (you can read up more about that marketing miracle here).
Today we have the popular HBO series Game of Thrones teaming up with the Boston Red Sox for an epic GOT theme night at Fenway Park.  The Ser Andrew Benintendi bobblehead and Iron Throne photo-shoot add to the interactive experience fans will have at the game.  This bold marketing move crosses the Boston Red Sox audience with the GOT audience together for one epic themed night.  It's marketing ideas like this that help business reach a deeper connection with their audiences.  Boston is truly proud of the Red Sox, but some long for the Game of Thrones series once baseball season is over.
I really like where Fenway Park is going with these theme nights!  While I'm not the biggest GOT fan nor do I have the time to check out a Red Sox game, I do appreciate these awesome marketing promotions they are hosting.  Sports marketing was a great class to take at Salem State University and I really got a lot out of the course (even though sports isn't my major specialty!).  This is one of those instances where the skills and knowledge you learn in the communications classes apply to real world situations.
Kudos to the Boston Red Sox for showcasing a great example of cross-marketing!  It's nights like this that show where the true Sox fans are around Boston.
My last message to end this would be…GO SOX!