It's a sunny day here in MA and we're midway through this awesome summer season.  Learning about new TV series coming out this fall is one of the last things on my mind (it's been too beautiful outside to even stare at my computer screen for one second, OK?).  This is the season where people are shutting down their screens and heading out for an adventure outdoors.  Popular TV series are on their summer break, which gives people more reasons to be outside.  While everyone has been enjoying this season, my favorite series just dropped some MAJOR clues about the next season.
American Horror Story, which is my favorite horror TV series of all time, dropped a teaser on the internet a few days ago.  The teaser itself features a bunch of dark clowns wielding axes in what appears to be some Gothic cult.  An apprehensive woman stares out from the crowd of clowns, wondering what is happening.  A voice-over narrates during the teaser saying, "Does it seem like no one really understands you? Do some people just make you sick? Are you afraid? We can set you free."  All the clowns gather in unison, performing their ritual for us to see as the voice-over narrates the event.  The scene ends with the announcement of season seven for American Horror Story.
            You heard me right, folks – American Horror Story is returning for its seventh season!  This new season, titled American Horror Story: Cult, will be airing this fall.  The first episode will drop on September 5th.
In addition to the new teaser trailer, Murphy announced that Evan Peters and Sarah Paulson will be part of a love story this season.  He dropped a post on Instagram tyesterday featuring a drawing of a man with blue hair (who will be played by Peters!) alongside Sarah's character with the note, "Ally and Kai in CULT…a love story for the ages".  Evan and Sarah are both AHS veterans that have been part of the cast since American Horror Story: Murder House.  Each of the cast members played some oddball characters, but you can expect to be seeing a lot more Evan Peters in season seven.  So not only will we be seeing more of Evan Peters this season, but he will be part of an interesting love story with Sarah Paulson's character.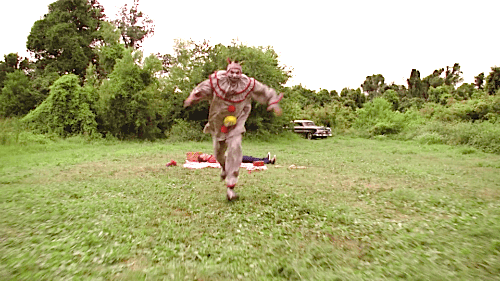 Before dropping the teaser trailer, Ryan Murphy already dropped a few breadcrumbs for us to follow.  A few weeks before the trailer, Murphy released an Instagram post of a magazine featuring Twisty the Clown on the cover (you know, THAT Twisty the Clown from AHS: Freakshow that made Pennywise look like child's play!).  It looks like Twisty's dastardly deeds won't be over yet because it looks like we delving into his story again this year.  Twisty is just one of the few characters that we will be exploring this year.
This was fantastic news to hear!  Lately I've been trying to keep up with the new shows premiering on Netflix and it was exciting to hear about the next season of American Horror Story.  I really enjoy most of Evan Peter's character on the series, so I'm pumped to hear that we will be seeing more of him this year.  The new season itself looks really interesting and I'm curious what this whole cult theme will look like.
American Horror Story has had its shares of intriguing themes and the cult idea will be interesting to check out.  There's been lots of craziness since the election last year so we'll have to wait a little more than a month to see what horror story Ryan Murphy has in stores for us.
Last year we dived into the story of Roanoke and now we're entering the cult this year.  Stay tuned on September 5th for the premiere of American Horror Story: Cult!