Happy Monday folks!  We're in the middle of October and all of the scariest horror films/TV series have been airing in honor of Halloween approaching soon.  While I may be out on the prowl within the streets of Boston, I still make time for my favorite horror classic American Horror Story.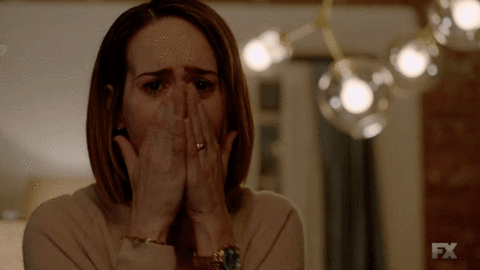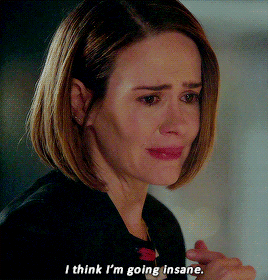 This year's chapter in the anthropology series revolves around the themes of cults.  Ally is still hysterical over the random clowns and irregular holes that have been driving her insane.  In a classic American Horror Story twist, viewers are shocked and perplexed about her bizarre encounters with the clowns.  Are there really crazy clowns terrifying Ally?  Or could this all be some horrific mirage that is playing inside her mind?  All that we know for sure is that there has been a lot of crazy surprises so far.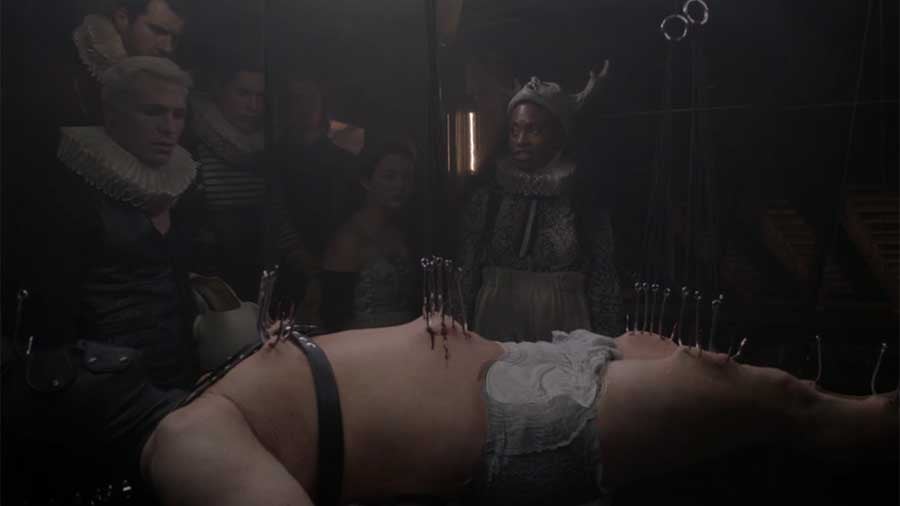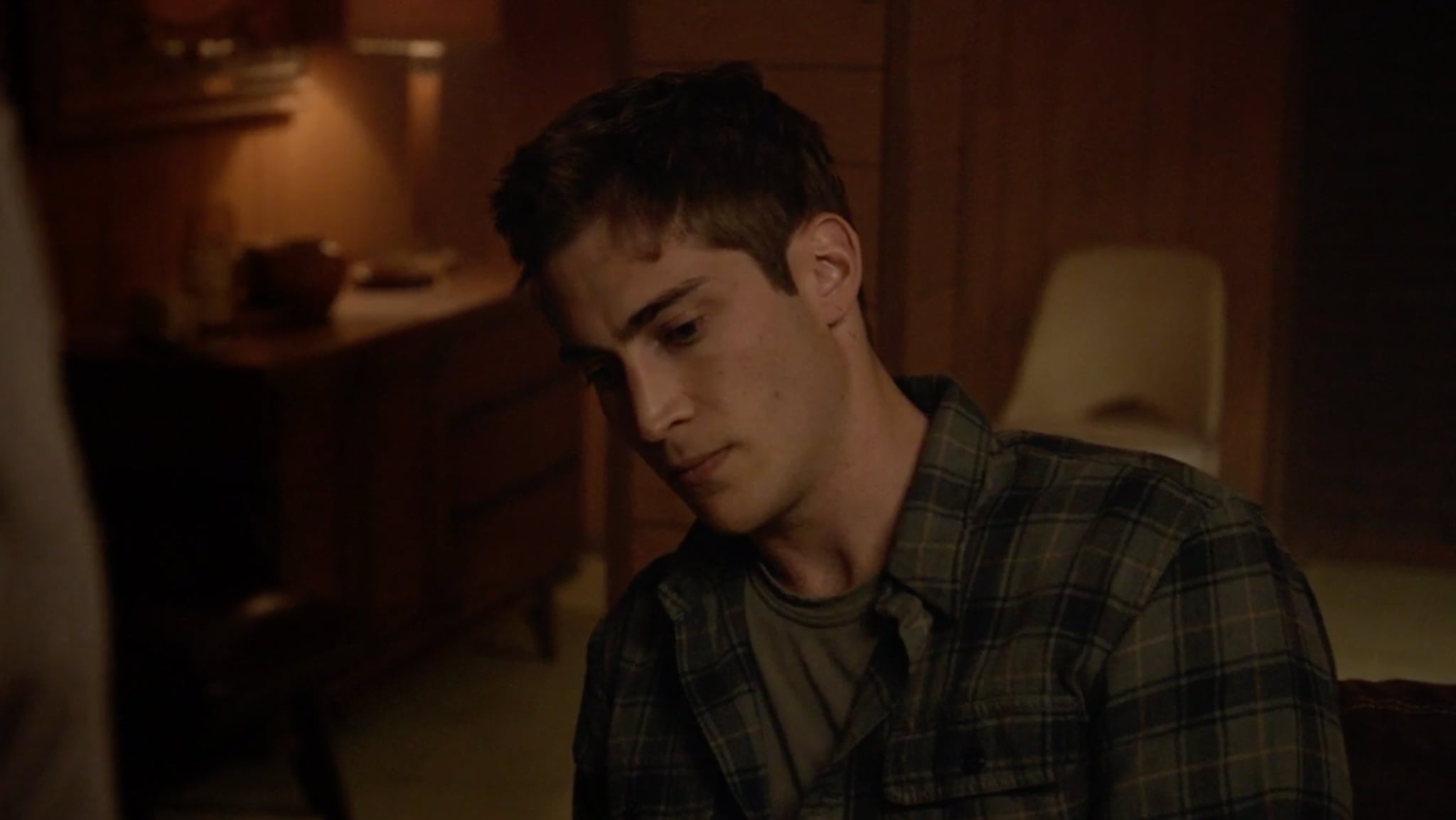 Last week's episode gave us even more chilling events (I don't know what was more disturbing – seeing the set-up for the gimp's death or RJ being shot multiple times by a nail gun!).  But the biggest surprise was revealed in episode five titled 'Holes' when we find out who were those crazy killer clowns.  A part of me knew who these killers were while others left me shocked and asking for more information.  Here were most of the clown's identities revealed:
Trlfaccla Clown
The first clown on the list was the trlfaccla clown.  This three-faced clown acted as the leader of the cult since horrifying Ally in the supermarket.  It happens to be none other than…Kai!
That's right folks – Kai is the trlfaccla clown!  This does seem obvious since Kai's clown get-up looked the craziest.  He was running the show as himself as well as the stunts he pulled with the clown cult.
Toothy Clown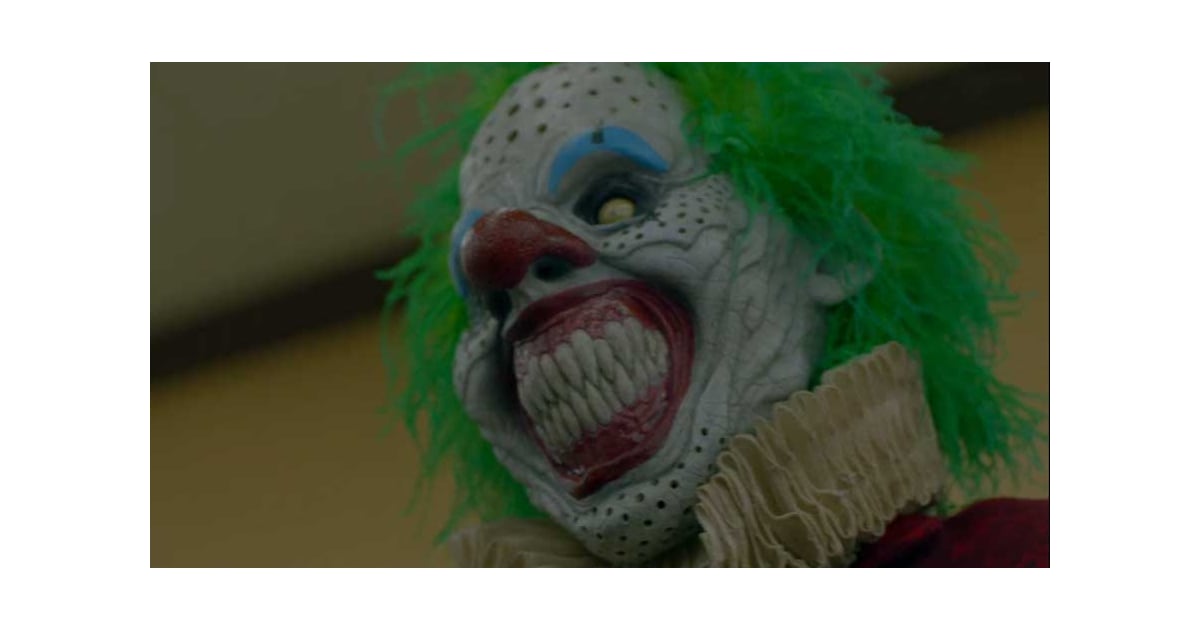 Our next clown was the tallest of the group, spotting a wide-open toothy grin and wearing bright green hair.  This tall clown was Harrison, who moved next door with Meadow to Ally and Ivy.  Toothy was the one who murdered Serena, which makes sense since Meadow and Harrison recruited together with Kai to commit the crime.  Not only that, but Harrison was definitely the one under all those holes.
Satanist Clown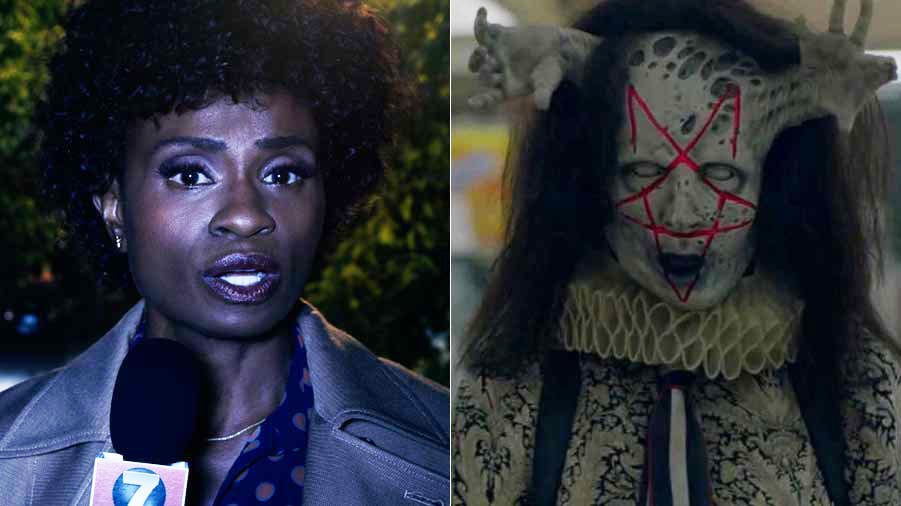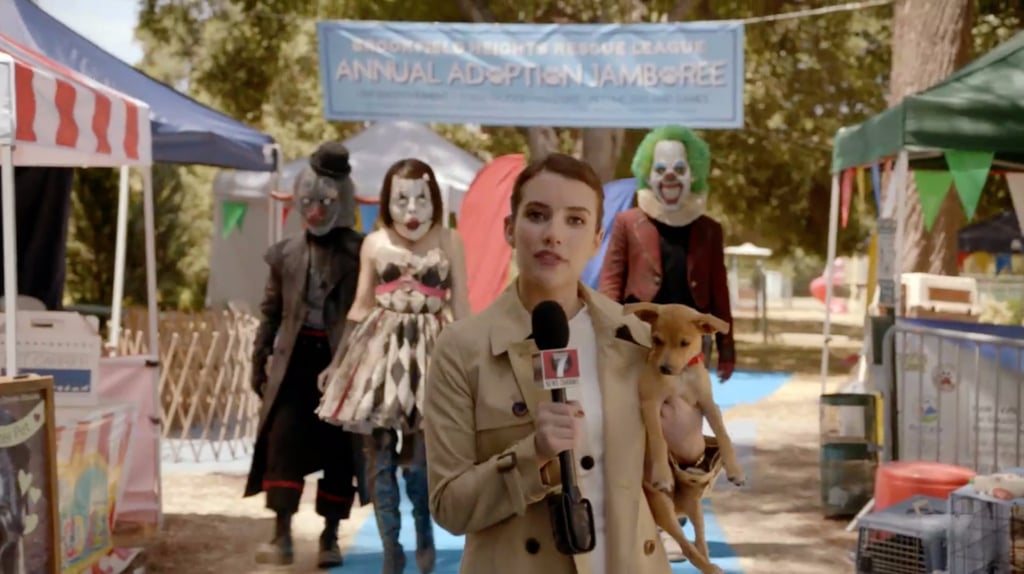 Satanist clown, the one with the face-painted pentagram and hands crawling out of its head, was revealed to be Beverly.  We find out Beverly joins Kai's group after being passed over for a promotion at work.  Serena Belinda (a.k.a. Emma Roberts!) received the promotion instead, but she gets brutally murdered while filming a segment.  Beverly has shown to be a strong follower in Kai's 'Clockwork Orange' shenanigans (her reference, not mine!).
Painted Face Clown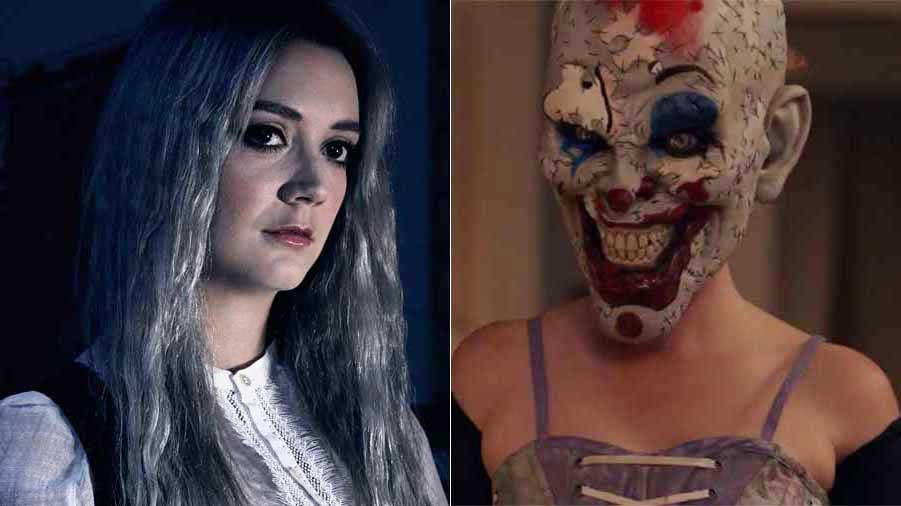 Sporting patches of white and grey face paint was Winter, Kai's son.  We learned that Winter joined Kai's cult back in episode one and has been babysitting Oz, all while destroying Ally and Kai's relationship at the same time.  While babysitting Oz, Winter has been showing him horrific content from the dark web.  It's shocking to find out now that Winter has also been part of the clown cult all along!
Harlequin Clown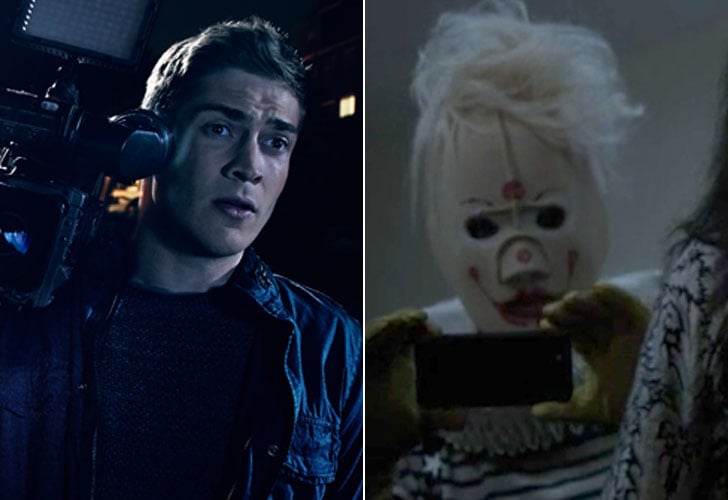 Many were misled on this clown's identity, but the real person behind the Harlequin clown getup was Beverly's cameraman R.J.  R.J. helped Beverly with her progress in the news, even joining the clown cult with her.  It makes sense too, being that he helped with Serena's death during her news segment.  His clowning around is cut short after being shot to death by nail guns from his own crew.
Brainy Clown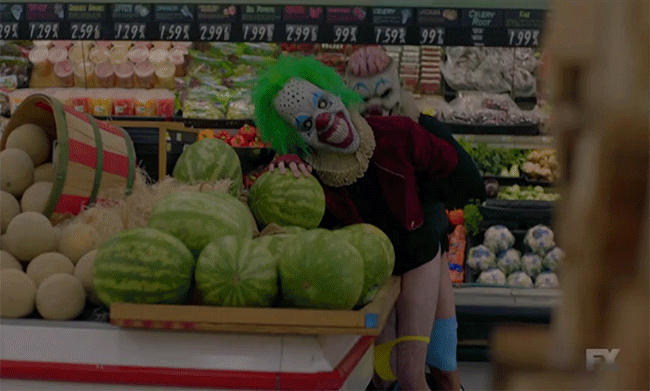 Remember the brainy clown pounding the toothy clown in the produce section back in episode one?  That clown happens to be Detective Jack Samuels.  Detective Jack Samuels had a thing going on with Harrison (which we learned a few episodes ago), so it makes sense that they were the duo getting it on.  I was dying to know who those clowns were, specifically Brainy and Toothy after watching their disturbing dry humping session at the supermarket.
Elephant Clown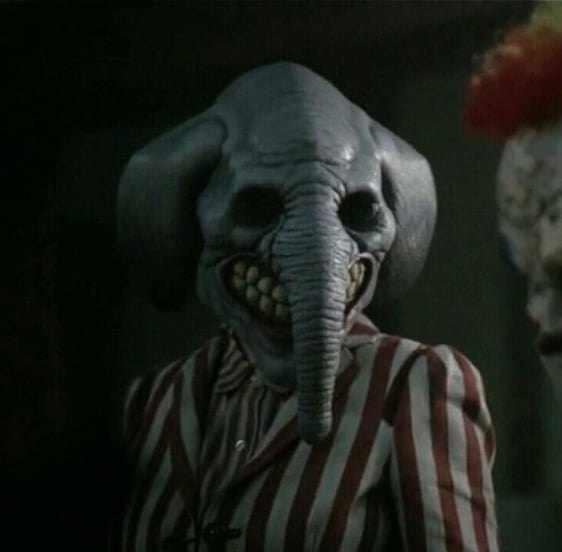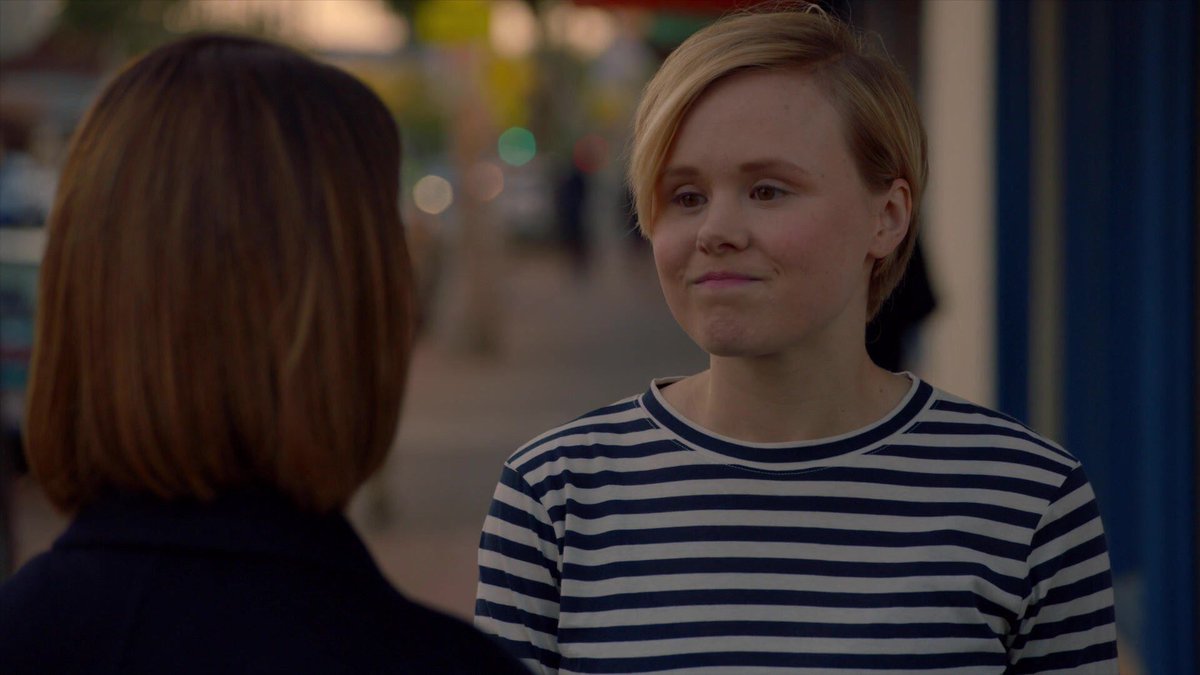 Now it's time for the BIGGEST surprise of all.  Earlier in the blog, I discussed the elephant drawing that was released on twitter (which you can read about here).  That elephant clown monster happens to be – wait for it — Ally's girlfriend Ivy.  Ivy, the love of Ally's life, joined Kai's cult!  Not only is she betraying her love Ally, but she IS the elephant clown monster!
What a double whammy moment right here – Ivy is the elephant clown monster that also joined Kai and his gang.  These surprises definitely flipped the script on this twisted storyline.  Just when you thought you figured out the mystery, only to be pulled down into another twist.
And that's who your gang of clowns are.  Who knows what other disturbing surprises will pop up in the next episode on Tuesday night.  All we know for sure – Kai's clown cult will be out for more shenanigans real soon!