Pride week may be over in Boston, but many other cities are still celebrating or getting their celebrations started as well.  Popular cities like San Francisco don't have their parade starting until near the end of June.  Being that San Francisco is the heart of many progressive sub-communities, LGBTQ residents get a lot more creative in their pride celebrations.  Celebratory events are about to get a lot more unique now that the recreational cannabis industry is booming around California.
When pride events and recreational cannabis mix together, you create something truly fantastic.  And ironically enough, that is just what is happening here in San Francisco nightclub The Stud.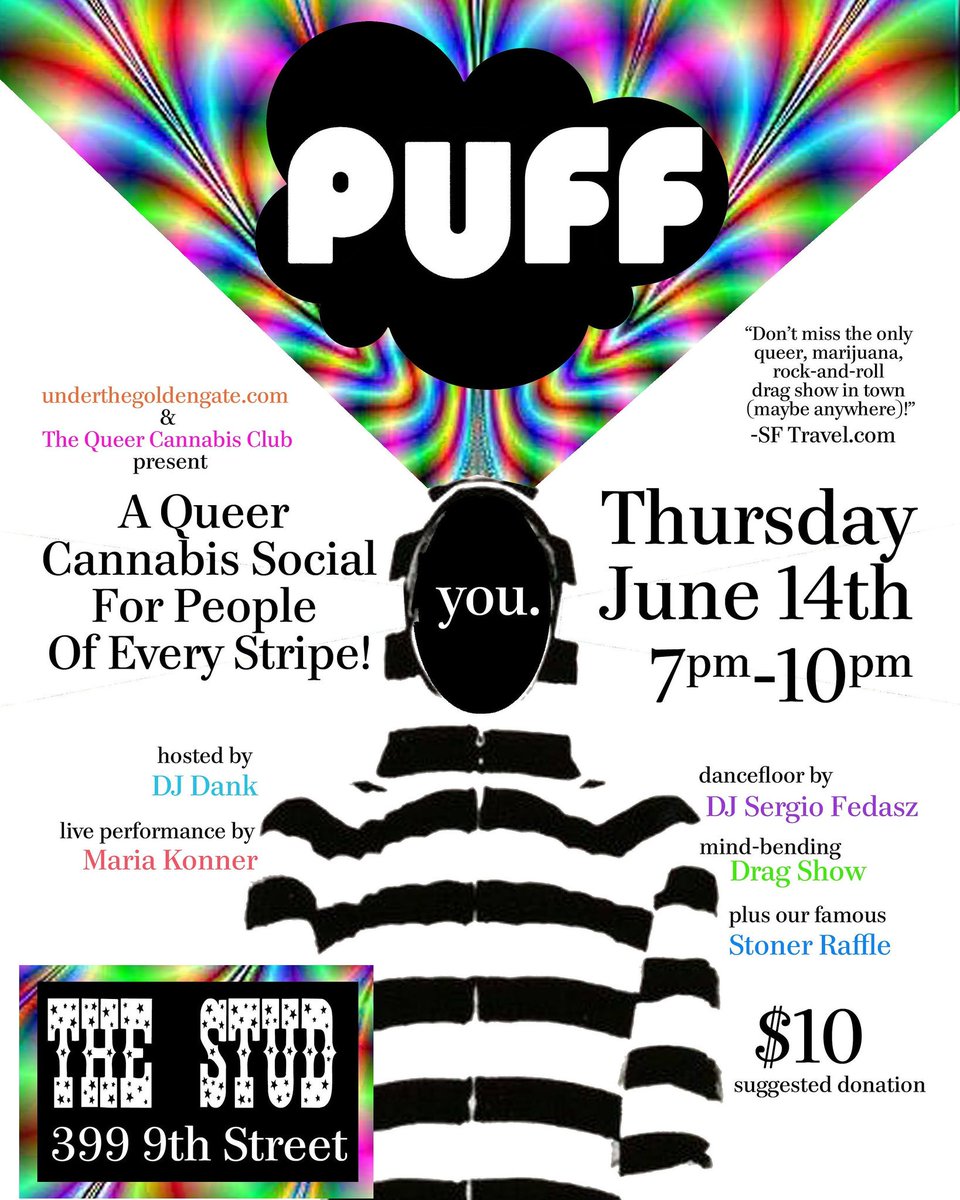 June 14th is PUFF – A queer cannabis appreciation/drag pride party.  The event celebrates cannabis consumers within the LGBTQ community.  It's a combination of a pride event all while celebrating legalized cannabis in San Francisco.
DJ Sergio Fedasz spins your favorite 420-themed tunes as everyone meets and greets before the show.  After that, DJ Dank hosts a drag show featuring some of the best performers in the city.  There is also a stoner raffle that takes place throughout the event as well.  This event is held every 2nd Thursday from 7-10 PM.  While this event celebrates all things queer and cannabis, there is no cannabis consumption and distribution in or around Stud.
The Stud has been open since 1966 and remains as the heart of San Francisco's LGBTQ culture.  It was formerly located at the western end of Folsom Street, but eventually moved to the corner of Harrison and Ninth street in 1987.  Some famous icons that have entered the doors include Bjork, RuPaul, Charo, Etta James, and even Lady Gaga.  Fifty years later and the Stud continues to be an iconic bar for pride events.
Ok folks, I have heard of pride events all around Boston and this right here takes pride to a WHOLE other level.  Think about it – the LGBTQ audiences come together to the Stud to celebrate recreational cannabis use in San Francisco.  You basically have this incredible combination of sub-communities forming together under one legendary bar in one of the most iconic cities of all time.  To date, this is the only cannabis-themed LGBTQ appreciation event anywhere in America (better, yet anywhere in the WORLD!).
San Francisco continues to push the envelope with their bold pride celebrations every year.  Its things like the Folsom Street Fair and Amsterdam-style cannabis lounges that flourishes the city's reputation even higher.  Surprisingly enough, it still remains as the top LGBTQ friendly city here in America.
What we are left is two PR miracles meshed together into one amazing sandwich.  The cannabis industry is in full swing in California and is even helping businesses as well as other industries.  San Francisco was a historic town for both the LGBTQ and cannabis community, so it only makes sense to mix them together in one special occasion.  This is definitely one sandwich that will be easy to swallow for years to come.
This is the time to celebrate not just LGBTQ pride, but also cannabis pride as well.  Whether you are a trans female who enjoys smoking joints or a gay masculine man who is an avid dabber, every audience of the LGBTQ community should enjoy some cannabis.  Cannabis touches all colors of the psychedelic rainbow.