Last week felt like the longest week ever here in Massachusetts.  There was the snowstorm on Sunday then came the frigid cold on Monday.  The cold got to be too much that I get sick yet AGAIN, causing me to avoid everyone like the plague (including my own laptop).  With that, its been quiet here in MakeSandcastlesNotWar being that I spent some time resting rather than cranking out more ridiculously awesome blog pieces.
To be honest, it wasn't all bad being cooped up inside the house.  Spending more time indoors just meant searching for more great content on Netflix.  There was one popular TV series that actually got me moving and thinking differently about cleaning up.  This is Tidying Up with Marie Kondo.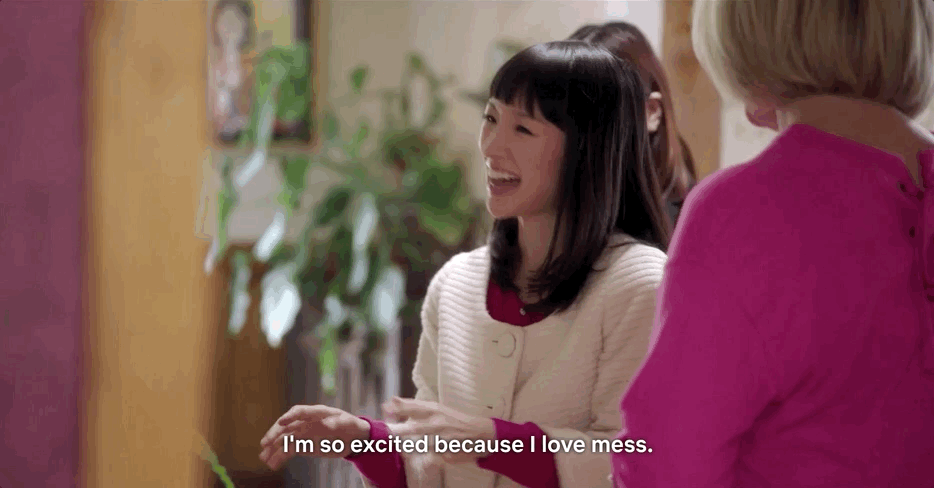 Tidying Up with Marie Kondo stars Marie Kondo, world-renowned organizing consultant and author who helps clients in the realm of tidying up.  Each episode features Marie helping out different types of audiences clean up their apartment or home.  Some were expecting a baby on the way while others wanted make their home feel more sophisticated for their guests.  These clients learn how to apply the KonMari Method when tidying up.  The KonMari Method involves gathering together all of your belongings (based on certain categories) and keeping only items that 'spark joy' in your life.  This way of cleaning/organizing shifts the focus from throwing items away to thing you truly want to hold onto for the future.
Watching Tidying Up with Marie Kondo influenced me to conduct some cleaning and organizing around my bedroom/office and bathroom.  I collected so many things these past few years, what with the amount of traveling I do in Boston and Salem almost every week, that I decided to clean out the clutter and only keep items that still 'spark joy'.
First off I started was my closet, I took out all of the clothing and organized them based on different categories.  My blue jeans and khaki pants are shelved on top as well as my winter clothes.  Near the left corner are where I stored my hats.  The right corner is where put my bicycle helmet.
The middle section is where I hung up the shirts, a few pants, suits, and winter coats.  Less clothing meant more space, as well as easy access to any item I need for the day.  In this case, less IS more because the shirts look a lot nicer than before.
On the bottom are my shoes neatly placed on this light shoe rack.  Boots, shoes, slippers, and even my sandals are all snug within its place.  There is no scrambling for finding the right pair of shoes because every pair is right there.  No scrambling means no frustration, which only means more piece of mind.
Next we move onto the drawers.  I folded up the socks (through KonMari Method, of course!) neatly around the space.  Every pair can be seen all around the border for every kind of occasion.  No more fumbling for the right pair on a special day!
Not only did I tidy up the sock/underwear drawer, but I also worked on the shirts as well.  The KonMari Method involves folding in thirds so that the shirts make up as less space as possible.  Better yet, it gives me a better idea of what shirt to wear for the day.  Two amazing benefits through just one small activity.
This even goes for long-sleeve shirts as well.  All of my short/long sleeve shirts, neatly stacked around yet another drawer.
Last drawer shows yet more shirts as well as some pajama pants.  Through the KonMari Method, I rolled up the pants instead of folding to make them look smaller than they are.  Rolling the pants helps to create more space for your clothing.  Really its all about working with the space you have in front of you.
After cleaning up most of my room, I moved onto the bathroom.  I looked through my cabinets to throw away items that didn't 'spark joy' (they were pretty much expired anyways!).  Next step was to organize the last remaining items.  The shaving products went together just like the medicine and so on.  There has been much more space in the bathroom cabinets, making everything that much easier to find.
One last thing I cleaned out was my business card collection.  I have collected hundreds of business cards throughout the years.  Ever since starting college, I received a wide range of business cards from different people in various industry.  From PRSSA to the cannabis industry, these cards come from all over the country.  Cleaning out my business cards was truly a rewarding and positive experience because I looked back on who I enjoyed connecting with.  These connections could further my career in the near future if I use them right.
Cleaning the Marie Kondo way was a truly amazing and philosophical experience.  It taught me something about value and appreciation in this world.  I haven't been feeling much appreciation in life, so I started cleaning up in my room and bathroom.  Sure enough, it actually helped out in a major way.
Conducting this modern self-help craze made me realize… in order to receive appreciation in life, you have to start with appreciating yourself first.  It isn't something you get right away.  Appreciating yourself is the first step in truly getting what you want out of life.  Cleaning up and organizing your possessions help clean up not only the physical clutter, but the mental clutter within your mind  That's the best type of self-help you could ever get.
With that, Marie Kondo's method helped me clear out the clutter – both in my room and in my mind.