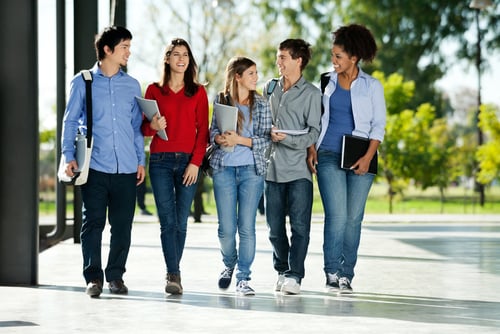 Cannabis is most popular with young adults, especially those attending college.  College students from all across the country consume cannabis at some point during their schooling.  Whether it is during a party during the weekend or sneaking a joint in before completing that big paper the night before its due, college students aren't shy about lighting up during their own time.
Ironically enough, many US colleges prohibit cannabis smoking (as well smoking in general!) around their campuses.  Colleges place heavy restrictions on smoking among their students and even create designated areas to use cigarettes.  Each college or university set their own standards for cigarette or cannabis smoking.
Meanwhile in Canada, where cannabis is 100% legal all across the nation, the socio-cultural landscape is already changing.  The University of British Columbia recently made a bold move to allow students to consume cannabis on the campus.
That's right folks – University of British Columbia students can freely smoke cannabis within the area.  Students are allowed to light up at designed "smokers" gazebos around the school.  While cannabis will be allowed in special areas, students still aren't able to consume inside any campus building.
This bold idea can be utilized for many instances.  Light up that joint before writing that 15-page essay on feminism! Take some hits off the pipe before that brainstorming session for the big group project.  If you don't have any major assignments, do some pre-gaming hits before heading off to that house party!
The University of British Columbia is one of hundreds of colleges and universities in Canada that allows cannabis use within their school.  With cannabis use legal all across the Canada, colleges and universities are changing their socio-cultural atmosphere around their campuses.  Many still prohibit cannabis use in their campus, but a lot of colleges are taking that bold step in accepting cannabis as well.
When the country changes, so does its establishments; that idea holds true, most especially for universities like The University of British Columbia.  Cannabis is fully legal in British Columbia, so colleges around the area are creating their own policies and procedures in place.
With that, cannabis is certainly making huge waves in Canada.  Colleges and universities are allowing students to light up around campus, thus changing their socio-cultural landscape.
Who knows, maybe American colleges and universities will learn a thing or two from Canada and allow their own students to consume cannabis.  Cannabis is still being legalized all across the nation, so it won't be long before college students are able to light up before completing that big paper the night before its due.
If you're an aspiring student who wants to freely consume cannabis during their schooling, they should look to attend The University of British Columbia real soon.