Back when I was in elementary school, I joined the Boy Scouts of America.  I learned many skills while on the team such as making a fire, understanding general direction, folding the flag properly, and other things.  One of my main tasks was selling popcorn to potential customers.  It was one of my first instances of learning about the business world by going door-to-door and selling popcorn for people.  There were many times where people didn't buy anything from me, but I did learn some good lessons about business.
While Boy Scouts had the popcorn drive, the Girls Scouts sell cookies for their organization.  Girl Scouts all across the country promote the famous Girl Scout Cookies around their neighborhood.  The types of cookies that they feature are S'mores, peanut butter, and even thin mint.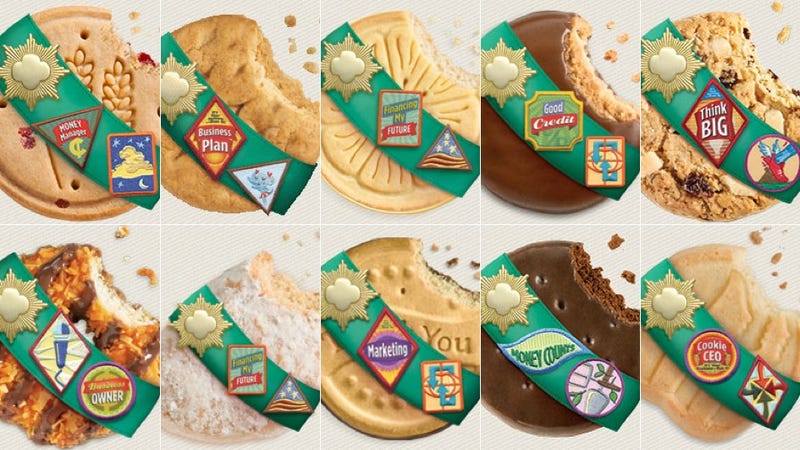 Like the popcorn sales, the Girl Scout Cookie drive is the perfect way of teaching young girls about the business world.  Girl Scouts are learning useful skills that would help them prepare for such career paths like advertising, public relations, marketing, journalism, and other fields of communication.  These types of skills will be necessary if girls need a leg up in the competition.  One Girl Scout went above and beyond her call of duty with her marketing strategy of selling her cookies near… a CANNABIS DISPENSARY.
A Girl Scout decided to set up her wagon near Urbn Leaf, a recreational cannabis dispensary located in San Diego.  The results?  Over 300 boxes of cookies sold in just SIX hours!
What makes this even better was that she was still following the organization's rules.  The girl scout set up her wagon with her father and technically she was off of the property, so no rules were broken.  It may have been a bold strategy, but she made out very well in the end.
Urbn Leaf is a medical and recreational dispensary located on 1028 Buenos Avenue.  It is one of many recreational dispensaries currently open in San Diego.  The recreational shop sells an assortment of flowers, capsules, topicals, edibles, concentrates, vape cartridges, and other cannabis accessories.  Another location is open at Golden Hill/South Park area at 3385 Sunset Street and another shop is set to open downtown at 3500 Estudillo Street.
This marketing strategy is absolutely GENIUS.  It's simple, yet clever at the same time – set up a table near a cannabis dispensary to sell cookies for potential customers.  Customers get the munchies after consuming some cannabis, so they will stop by a table to buy a box (or more) of some delicious Girl Scout Cookies.  People will enjoy some Girl Scouts Cookies after purchasing some GIRL SCOUT COOKIES at Urbn Leaf!
That marketing strategy will take her very far in life.  The Girl Scout Cookie and Boy Scouts popcorn drive teaches kids the very basics of business.  They may not know it now, but those days of going door-to-door to sell products will come very handy in the future.  Kids will learn about the true meaning of entrepreneurship (both the good and bad parts!).
Take a close look, communications professionals – THAT girl will be the one brainstorming amazing ideas for many businesses.  She hasn't even started middle school yet (let alone high school!) and she is already demonstrating incredible skills in marketing.  This is the kind of competition we got going on from our future generation.
Who knows what the future holds for the brilliant girl scout in San Diego.  Hopefully she pursues a career in marketing because she would make an incredible business woman.
If any boy scout or girl scout is having trouble selling their products, learn a lesson from the girl scout in San Diego and sell your cookies/popcorn near a cannabis dispensary.