Cynthia Nixon is most famous for starring as Miranda Hobbes in HBO's Sex and the City.  Miranda was a career-minded lawyer who was Carrie Bradshaw's voice of reason.  Due to her cynical views on relationship, Miranda was distrustful of men during the early seasons.  Her cynicism is one aspect she struggles with during the show.  Even through her struggles, she found love with Steve Brady (played by David Eigenberg).  By the second Sex and the City film, Miranda ended up living with Steve and their boy Brady.
Even though the last Sex and the City film ended eight years ago, Nixon continues her activism work in New York City.  She has been a political activist for LGBTQ rights, reproductive rights, inequality, and even public education.  Nixon is stepping up her political game by announcing her running for governor.
This is not a subplot for another Sex and the City project – Cynthia Nixon announces that she will be running for governor of New York City.  She will be running as a Democrat against Governor Andrew Cuomo in the primary election that is set for September.  Nixon made the announcement on Monday through an ad on her Twitter account.
During her announcement, Nixon focused on her longtime stance towards improving public education.  She, as well as her three children, all attended public schools while residing in New York City.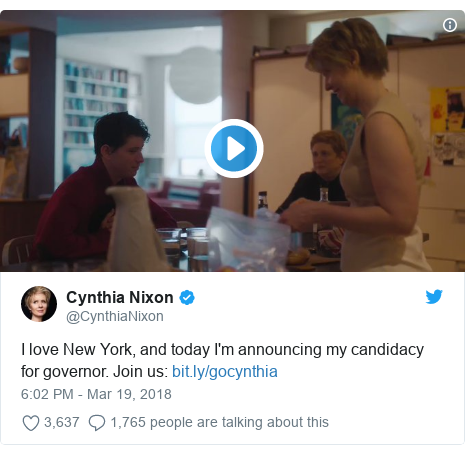 Years after her stint as Miranda Hobbes in Sex and the City and Cynthia Nixon is still making headlines.  The show may be over, but her activism still reigns on.  It will be interesting to see Nixon's work as she runs against Andrew Cuomo for governor of New York City. While I didn't get into Sex and the City, I enjoyed watching clips of Miranda Hobbes on the show.  Nixon would make a great governor for New York City.  In a lively city like New York, Nixon would definitely win over many supporters as a celebrity as well as a politician.  She was already the voice of reason for fictional New Yorker Carrie Bradshaw, but now she is looking to serve as a powerful voice for the people.
With that, Cynthia Nixon will be running against Andrew Cuomo for governor.  You can look forward to the race happening later in the fall.  Who will reign as governor of New York City this year?  Will the popular Cuomo take his seat again for another few years?  Or will the notorious Sex and the City star take over?
Who knows – we may see Cynthia Nixon channeling her inner Miranda Hobbes during the event.