Happy Monday readers!  Many people bundled up during some of the coldest weather ever this past week and the worst of it is over (FINALLY!).  Since I was too busy fighting off the bitter cold, I've rarely checked the TV schedule to see if any events were happening.  It wasn't until yesterday afternoon that I found out about the 75th Golden Globe Awards airing later on.
Ah, yes – The 75th Golden Globe Awards.  Just the thing to distract my mind from the bombogenesis this past weekend.  Four hours packed of glitz, glamour, and the whole shebang!  It was perfect timing for escaping to La-La Land for a little while.
It was quite a night for the hottest movies and TV series that were nominated this year.  There's also the continuing trend of streaming services (Hulu, Netflix, Amazon Prime!) appearing in some of the categories.
Let's check out the highlights for this year's Golden Globe ceremony:
Time's Up Campaign & Dressing in Black
There were two trending clothing items were the main stars of the Red-Carpet event – the 'Time's Up' pin and dressing up in black.  Time's up is a campaign initiated by hundreds of actresses and women who work in the entertainment industry to fight against sexual misconduct across the America.  Women dressed in black as a way to stand in solidarity with many victims of sexual harassment and assault.
Two distinct clothing trends, one common cause – winning the ever-growing fighting against sexual misconduct across the nation.  These trends come in the wake of the mass sexual harassment stories popping up around Hollywood, with the first being Harvey Weinstein (you can read that PR nightmare here).  Months after the stories were released, many men and women aren't backing down and staying silent about the issue anymore.
Major Nominations
The Shape of Water was the most nominated film this year.  It ended up taking home Best Director (Guillermo del Toro) and Best Original Score (Alexandre Desplat).  I saw this on Christmas and the film was absolutely amazing.  Guillermo del Toro created an incredible story that featured one awesome sea creature.
For TV series, Big Little Lies snagged the most nominations.  The popular HBO series ended up winning 4 awards – Best actress for Limited Series or Television Movie (Nicole Kidman), Best Supporting Actor for Television Series (Alexander Skarsgard), Best Supporting Actress for Television Series (Laura Dern), and Best Limited Series or Television Movie.  It was a popular winning choice that featured a shocking story with disturbing truths.
            Kudos to Big Little Lies and The Shape of Water for receiving the most nominations this year!
Roseanne & Dan Conner Return!
Roseanne and Dan (Rosanne Barr and John Goodman) came to the stage to present the award for best TV drama series.  90's fans would remember the couple from the ABC series Rosanne.  Ironically enough, Rosanne will be returning in March this year on ABC.  It's great to know that Rosanne and Dan will be back on Television after being cancelled for over 20 years!
Be sure to check out Rosanne this March.
Handmaid's Tale – 2 Wins
Hulu's popular series The Handmaid's Tale took home two wins – Best Series and Best Performance in a Drama Television Series (Elizabeth Moss).  The Handmaid's Tale was one of few TV series hailed from a streaming service.  Such streaming services like Netflix and Hulu are releasing more original content for its audience.  Their selections are so popular that they are taking up more spots on the nominations.
Here's to hoping streaming services produce more unique series for everyone.
The Post – Featuring Sarah Paulson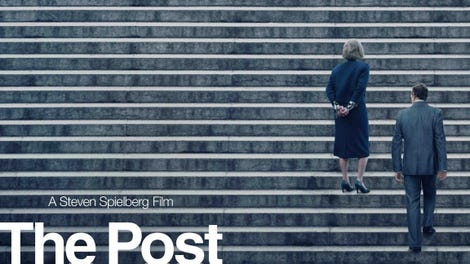 American Horror Story veteran Sarah Paulson presented the nomination for the film The Post.  The Post is a political thriller film depicting journalists from The New York Times and The Washington Post who published the Pentagon Papers that regard the U.S. government's involvement during the Vietnam War.  Sarah Paulson stars as Antoinette "Tony" Pinchot Bradlee in the film.  While The Post did not take home any major wins, it did receive six Golden Globe nominations.
American Crime Story Cast Preview!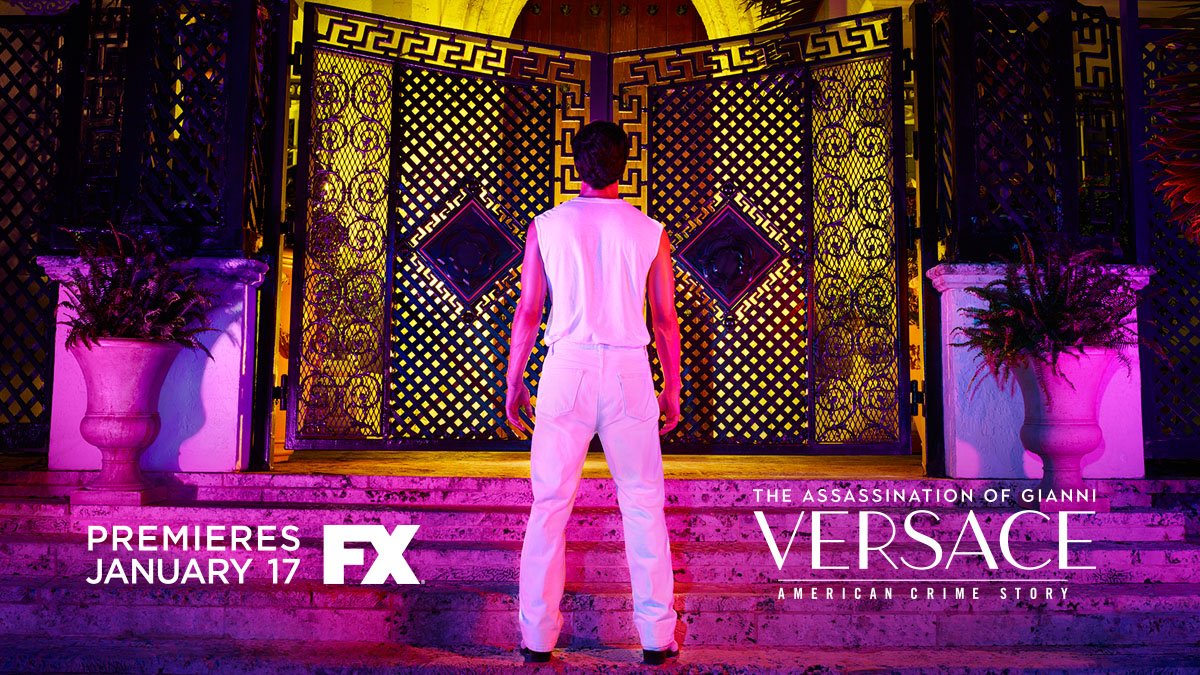 Not only did AHS vet Sarah Paulson present the nomination for The Post, but the main cast of American Crime Story: The Assassination of Gianni Versace appeared on stage as well.  The cast got up to present the award for Best Actor in Limited Series or TV movie.  American Crime Story: The Assassination of Gianni Versace will air on January 17th on FX and there will be coverage about that story a little bit later!
Thelma & Louise – 26 Years Later
Our last highlight was Thelma and Louise reuniting on stage after 26 years.  Susan Sarandon and Geena Davis starred in the nostalgic 90s film Thelma & Louise about two friends who embark on a road trip with surprising consequences.  The duo appeared together on stage to present the award for best drama film.  It was incredible to see an amazing duo reunite together once again in the spirit of entertainment.
Another Sunday and another Golden Globe Awards event finished.  There were many big wins, intriguing causes pointed out, and unforgettable reunions of famous characters.  It was surely a glamorous night in Hollywood yesterday.
Let's see what Hollywood has in stores for us this year for the 2018 season!