Here we are, folks — the first Netflix releases of the year.  There's already been some great releases on Netflix in January, yet there's still a few shows from December I've yet to catch up on.  To start the new year, I binged-watched the new season of Bill Nye Saves the World on Netflix.
Bill Nye is back with his newest series featuring the very latest in the world of science.  From biology to chemistry, Bill takes every aspect of science to apply them to real-world scenarios.  His earlier series was just kiddie stuff – this right here is the REAL DEAL.
Within the past season, Bill Nye has really been keeping touch with the modern science trends of the 21st century.  Nye went full force on the climate change agenda on season one, but he shifted gears towards other hot button topics.  The season two premiere kicked off with the bold topic of…wait for it…CANNABIS.
You heard me right, folks – Bill Nye the Science Guy discussed about the science of cannabis for the season premiere.  Bill Nye, the same guy who hosted the PBS series Bill Nye the Science Guy back in the early 90s, took his latest Netflix series to pot (LITERALLY!) for one half-hour episode.
For the record, I had a hunch that this idea would come in soon.  To think that one of my favorite TV hosts discussed the science of cannabis on a popular Netflix series. Not only did I see this bold move coming, but I thought that it would be turn out to be absolutely AMAZING…and it was.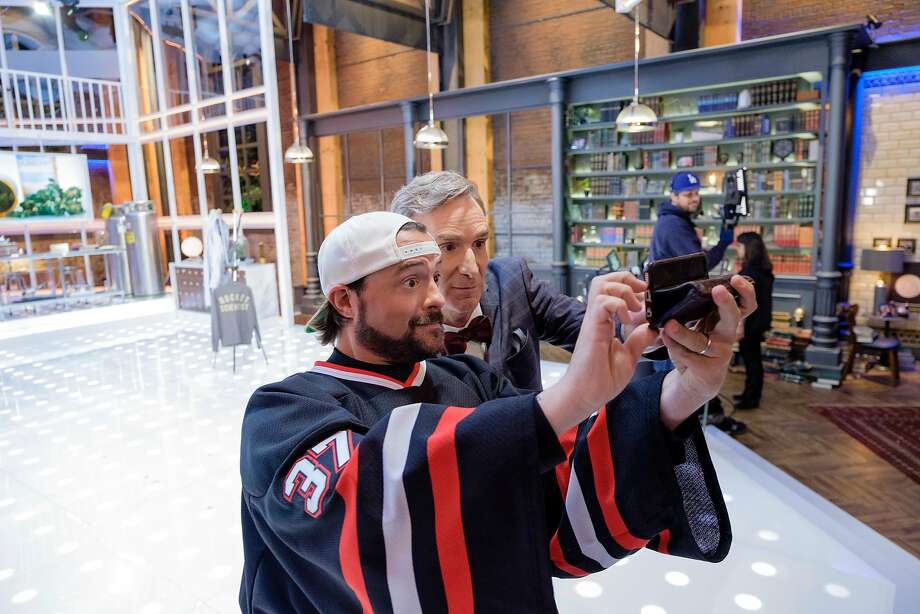 The episode was everything I imagined and more.  From pot science to potheads discussing the pros and cons, the cannabis episode of Bill Nye Saves the World was my favorite episode by far.  Here were some of the highlights of the cannabis episode:
Bill Nye Buys Pot (For Science!)
           
To start off the 4/20-episode, Bill Nye enters the Hollywood High Grade dispensary to purchase some medicinal cannabis.  This opening was just absolutely PRICELESS to watch — Bill shows his medical card for the audience (SERIOUSLY PEOPLE – Bill Nye the Science Guy has a freakin' California medical card to buy weed!).  He talks with budtender Veronica about buying some THC and CBD flowers, saying this was "for science" and that he's performing some science experiment.  In the end, he bought a half ounce of cannabis for his "science experiment" he had planned for the episode.
Ironically enough, I consumed some White Walker Kush before this binge-watching session.  It went perfect with the interesting subject matter for the show.
Field Trip to Israel Pot Farm
After discussing the history of cannabis use in America, Billy Nye sent out correspondent Derek Fuller to a pot farm in Northern Israel.  Derek went to meet with Tikun Olam CEO Aharon Lutzky to discuss the company, their methods of growing medicinal cannabis for Israel, and even some knowledge that was passed down to him by Dr. Raphael Meshoulam.
Derek went to meet with the world-famous chemist Dr. Raphael Meshoulam, who is most famous for his work with tetrahydrocannabinol (THC).  Dr. Raphael Meshoulam noted that over 30,000 people use medicinal cannabis in Israel.  He explained how cannabis has a myriad of health benefits that could help people worldwide.
Another company Derek spoke with was CannaRX.  Derek spoke with Dr. William Levine, who explained that they may have found the answer to precise dosing in cannabis.  Precise dosing of medicine is crucial for patients seeking to get the most out of their medicine.  It was quite an adventurous and educational field trip for Derek Muller!
Pothead Panel
For the episode's selection of panelists, Bill Nye talked with cannabis enthusiasts – Associate Professor of Columbia University Dr. Ziva Cooper, actor-director Kevin Smith (Silent Bob!), and Director of Washington State's Liquor and Control Board Rick Garza.  The trio discussed the pros and cons of cannabis in American society.  Dr. Ziva Cooper is one of very few professionals who is studying cannabis for scientific research (being that she has a Schedule I license to study Schedule I drugs!).  Kevin Smith shared some tidbits of when he first tried cannabis with Seth Rogen during his late thirties.  Rick Garza discussed how legal cannabis in Washington State helped the state rake in hundreds of millions of dollars in taxes.  Ever since Washington State legalized cannabis in 2012, they have seen profits by the BILLIONS.
It was quite an interesting discussion from the three cannabis enthusiasts and it's exciting to see what effect cannabis has on our society.
Ulitmate LIT Frisbee
This wouldn't be a pot episode without some good old-fashioned ultimate Frisbee!  Bill Nye teamed up with some members who would be high for the game (with special guests The Lucas Brothers!).  They would be facing off against the Palo Alto Startups, the team that would be playing without consuming cannabis.  The experiment was to see which team would do better – the players that were high or the players playing stone cold sober.
In an epic (and hilarious) match, the Palo Alto Startups ended up defeating Bill's team 11-0.  Bill's team was too distracted to be motivated to win the game.  As terrible as the match was, it was funny to see how cannabis affected the teammates.
And there you have it – one epic episode of Bill Nye Saves the World that went to pot.  It was truly an entertaining episode where science met cannabis culture.
Who knows what other insights Bill Nye has for the modern world.  Maybe he'll go to pot again in the next part of season two!