Every now and then we hear about these crazy and 'original' ideas surfacing from Hollywood.  Whether it is a horrendous TV pilot that barely aired on ABC (like Imaginary Mary!) or a music mash-up that did not mix well with the audience at all.  Either way, these preposterous ideas do make for hilarious news stories.  We've had some amazing pop culture that is trending well and laugh at the terrible ones that flopped.
Earlier this summer I discussed the problem of franchise films this summer (which you can read more about here).  Film ideas stemming from licensed franchises just isn't cutting it anymore with the audiences.  These days I rarely attend the movies these days since there's better selections on Netflix.  I thought I've heard of every moronic idea for films these days; that is, until I learned about…The Emoji Movie.
I am DEAD serious when I say this folks – we have a franchise film strictly on EMOJIS.  Emojis, as in, those 'cute' and 'adorable' pixelated messages people send to their contacts every day.  We have scrapped so far down to the barrel that we're creating a storyline for cartoon picture of a heart that we use on our phones.
Rather than ramble on about how god awful this summer film is, let's get down to some intriguing points about this topic.  The Emoji Movie was a TERRIBLE idea for the summer and it's finally time I explain (with two explanatory reason) what went horrifically wrong with this film.
Here we go….
#EmojiIdeaFAIL
First off, let's discuss the monstrosity of this mundane film.  The story goes like this: Gene, a multi-expressional emoji living inside a teenager's phone, sets off on his journey to become a normal 'meh' emoji just like his parents; basically, it's a young character that goes on an adventure to search for himself (where he came from, what his original backstory is) so that his parents would accept him.  The concept of the story may sound intriguing, but its heavily boggled down by having the characters become emojis.
This whole idea doesn't work as a franchise film because it's been played out thousands of time.  This cute and heartwarming type of story has been utilized so many times for films that now it's being milked for something trite like emojis.  A repetitive theme used for the plot plus a tiresome trend like emojis equals one train wreck of a film.
#EmojiMovieMarketingFAIL
Take a close look at the billboard for a minute or two.  Before I looked through Buzzfeed, I had NO clue what kind of message was even being relayed to me.  Hi-five me the popcorn July 28th?  Slap me the popcorn calendar?  WHAT DOES IT EVEN MEAN?!?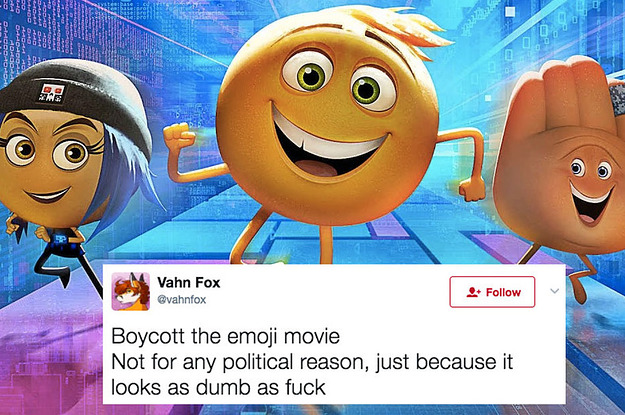 If you were just as confused as I was, you are not alone.  This billboard had audiences so perplexed about the message that they turned off from the whole idea itself (this is one of those scenarios that you DON'T want happening during your marketing promotion strategy!).  Even after the trailer released, the film was panned by many critics.  Some social media users were so outraged that they decided to ban the film altogether (one user called for a boycott simply because it was 'dumb as fuck').  Other than the franchise film itself being ridiculous, the promotional stunt failed to reach its audience.
And there you have it, two explanatory reasons for why this god-awful film flopped with its audiences.  The Emoji Movie took viewers to a really watered-down and monotonous world of emojis and provided a cliched story about a young man searching for his home.  It is not interesting nor an original film to check out.  This is definitely one of those films to skip after blazing some good cannabis (I could never enjoy this even after a bowl of Citrix).
Here's to hoping that there's a revived childhood classic franchise that is worth watching in theaters.  For right now, I'll skip the ticket and take my movie-viewing experience over to Netflix.