We're at over five months after Question 4 passed in Massachusetts and so far we are operating on a legal grey area.  Massachusetts citizens can consume legally, yet there are no recreational dispensaries open at the moment.  It'll be quite a while before the first shop opens up, but that isn't stopping audiences from getting the products they need.
Even with the dispensaries opening, there's a bigger problem revolving around WHERE customers can consume their products.  Smoking cannabis in public is still illegal and there are no licensed businesses that provide safe havens for places to smoke.  Edibles are easier to consume discreetly, but there are customers that prefer smoking their herbs.  And to add insult to injury, those potential customers are hesitant to purchase cannabis because they wouldn't be able to find anyplace to consume.  This situation can be summed up by Samuel Taylor Coleridge's phrase:
"Water, water, everywhere,
            And all the boards did shrink;
            Water, water, everywhere,
            Nor any drop to drink."
            In this case, it would be 'pot, pot, everywhere, nor a single location to smoke'.  Cannabis can easily be found around Massachusetts (especially around Boston), BUT there are no legal public places for customers to smoke.  No public place for consumption means customers will flock from Boston and head to a more 4/20-friendlier city (like Denver or Portland).
How do we go about solving this issue?  What's the temporary solution we have now that we could use for the next few years?  Is there a hidden answer within Coleridge's riddle that we're not looking at?
Well folks, I managed to figure out a solution to this riddle that made a light-bulb go off inside my mind.  The answer for public 4/20 places is…Airbnb.
Airbnb is the answer that's been around before cannabis became legal in Colorado and Washington State.  Founded on August 2008 in San Francisco, Airbnb is an online hospitality service that enables people to lease or rent short-term lodging.  Such lodgings that can be found within Airbnb include apartment rentals, vacation rentals, hostel beds, home-stays, and even hotel rooms.  It provides similar hospitality services within hotels, but Airbnb connects people on a personal level.
Rather than just provide a place to sleep in for the night, Airbnb hosts can answer any questions/concerns about the place guests are staying at.  But the real kicker with Airbnb?  Some choices feature rooms where the hosts are 4/20-FRIENDLY.  That's right people, there ARE 4/20-friendly options available on Airbnb!  4/20-friendly options can already be found within Colorado, Oregon, Washington State, and especially in California.
Not only is Airbnb bringing in more foot traffic because of the 4/20-friendly states, but the costs are less expensive than hotel rooms.  Cheaper options to stay at means customers will have more spending money to use for exploring the cannabis culture.  For example, John and Jane will have more money to spend on a half-ounce of Grandaddy Purple in Colorado because they saved money on an Airbnb option rather than hotel room that is $150/night.  Dropping more coins on the cannabis products rather than the hospitality services means customers will travel BACK to that destination again (and will probably bring family/friends to the mix!).
Going back to Beantown, there are plenty of Airbnb rentals within the Boston area.  Dispensaries are hitting the streets next year and customers will be flocking to Massachusetts (better yet, GRASSACHUSETTS!) for the greens.  Airbnb will hold the key for solving the 'pot, pot, everywhere, not a single location to smoke' dilemma.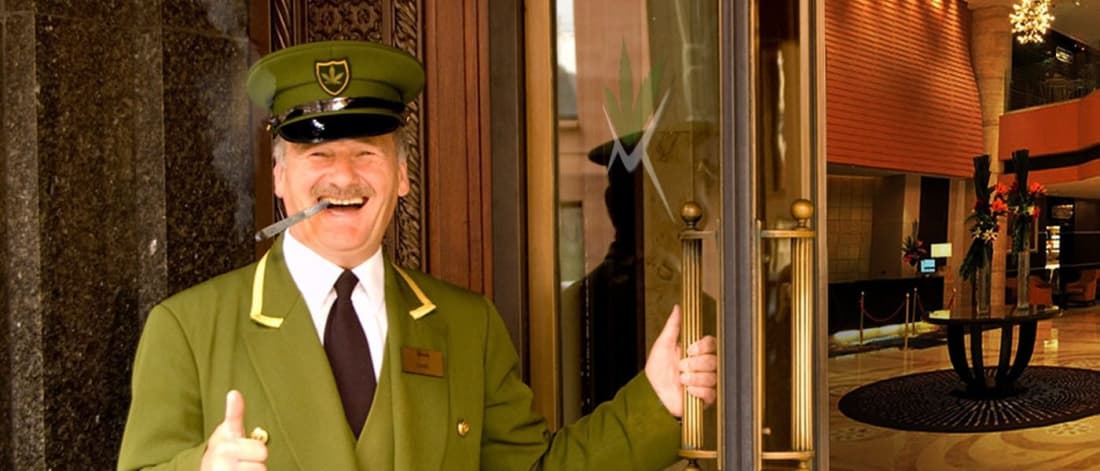 But wait, it gets even better!  With companies like Airbnb thriving in the 4/20-friendly states, the competition in tourism will be MASSIVE among the hospitality services.  Customers will steer away from traditional hotels and flock to the modern options that allow them to smoke cannabis publicly without the fear of being arrested.  In turn, hotel companies will provide 4/20-friendly options to keep business afloat.  Airbnb serves as the primary domino that will knock down the barriers cannabis prohibition created with public consumption.
To recap, let's do the math real quick:  A legal cannabis market in Boston (1) plus legal public consumption through Airbnb (1) minus the rule where public consumption outside is illegal (0) equals a WIN-WIN situation for the cannabis/tourism industry (1+1-0=2).  Coleridge's riddle of where to use can be solved through Airbnb.  We are quite a way until we provide 4/20-friendly hotels in Boston, but 4/20-friendly Airbnb has already been happening before cannabis was made legal.
Massachusetts is still operating under a grey area when it comes to legal cannabis.  To pull ourselves out of the quirky situation, we need to discuss the problem from every angle to figure out the right solution for the industry to thrive.  People are enthusiastic about cannabis making airwaves in Boston, but we have to solve the problem from every angle in order to make this work.  There's always going to be new and unique problems arising in this industry and that's why we have to keep searching for more interesting ideas to go about solving it.  It's companies like Airbnb that serve as the golden key towards unlocking the treasure chest full of gold.  In this case, it's green gold.