Medical cannabis is one of the most popular alternative health treatments used in the United States.  With medical cannabis being legal in more than half of the country, many people are straying from institutionalized prescription pills to the nostalgic haze of cannabis.  Hundreds of thousands of people are medical patients and more people are signing up for a medical card after discovering the amazing benefits of cannabis.  People consume medical cannabis to treat pain, nausea, glaucoma, multiple sclerosis, anxiety, arthritis, PTSD (post-traumatic stress disorder), and many other life-threatening illnesses.
The path towards recreational cannabis is becoming clearer, what with the hazy smoke of cannabis clearing away.  Before recreational cannabis was making headlines within Colorado and Washington State, the medical cannabis community was booming ever since Prop 215 passed in California.  Prop 215 passed more than 20 years ago, with more than half of the country turning their eyes towards California and their unique business.
So how exactly did we get there?  Where did the first medical marijuana start? How is it that something like 'medical marijuana' became such a common alternative practice recommended by doctors?  What was the reason behind selling cannabis for medicinal use?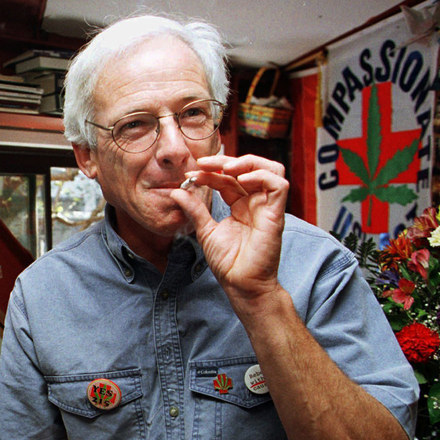 All of these questions lead us to one man in particular: Dennis Peron.  Dennis Peron is a prominent figure in the LGBTQ and cannabis community.  He described himself as a "gay kid from Long Island who joined the Air Force to get away from home during the Vietnam War" in his book Memoirs of Dennis Peron that released in 2012.  Peron is known as a pinnacle counterculture figure on the West Coast, with his humility and compassion for the ill being frequently recognized by Ed Rosenthal and Jack Herer.
After returning to San Francisco from Vietnam in 1969, Dennis Peron dealt cannabis around his hometown where he learned about cannabis's efficacy for treating severe illnesses.  Within the 1970s, Peron ran the Big Top marijuana supermarket right out of his home at the Castro Castle (which is still open to this day within the Castro District).  Even with the counterculture movement spreading within California, Peron was busted multiple times for dealing cannabis.
A few years after his first bust, the HIV/AIDS crisis was spreading like wildfire.  Dennis Peron lost many friends, including his lover Jonathan West, during the AIDS crisis in the 1980s.  It was then that the country discovered (half of the reason was by accident!) that cannabis could be used as medicine.  AIDS was a mysterious illness at the time, confusing many doctors and nurses looking to treat patients.  The only thing that really helped AIDS patients was consuming cannabis.
Jonathan West lived long enough to testify at his trial, confessing that the confiscated cannabis from the raid was for treating his illness.  After losing his lover to AIDS, Peron shifted gears and opened up the first cannabis buyers club (which was a blueprint for what would be a functional medical marijuana dispensary).  His first version was launched on a flat within Sanchez Street in October 1991.  He had three quarters of a pound, which he would provide for those who needed it for medical reasons and sold it for free to those that couldn't afford it.  By the summer of '94, the cannabis buyers club attracted 2,000 members in San Francisco.
Not only did the club attract sick people that used it as a dispensary and floating support group, but it also became a center for people considering themselves as activists in a political reform movement.  Some notable members of the political pot movement were Mike and Valerie Corral, Dale Gieringer, Jack Herer (author of The Emperor Wears No Clothes!), Tod Mikuriya, Pebbles Trippet, and many other notable figures.  From '94-'95, these activists helped to draft and lobby bills that would make medical marijuana legal through a doctor's approval to treat patients suffering from cancer, AIDS, multiple sclerosis, and glaucoma.
This bill would later become what is known as Proposition 215, a significant victory for medical cannabis that passed in California on November 5th, 1996.  Dennis was one of many members that wrote the first draft of Prop 215.  After Prop 215 passed, cannabis clubs sprung up around San Francisco and Oakland.  Other than the short list, the ballot measure applied to a wide range of illnesses that could be treated with cannabis.  It took a long while since the first draft, but Prop 215 finally broke waves in California a few years later.  To this day, Dennis Peron is seen as the Godfather of cannabis legalization here in America.
And there you have it:  Dennis Peron's residence at the Castro Castle in San Francisco was where the first medical cannabis community flourished.  It was open for all cannabis consumers, but quickly shifted gears towards medical use after the HIV/AIDS crisis hit America.  After losing his partner to AIDS, Dennis was motivated to kick-start the medical cannabis community in California.  The rest of it was history – Prop 215 passing, medical cannabis communities spreading around the country, recreational cannabis made legal in Colorado and Washington State, and so on.  None of this would have happened without the help of Dennis Peron, the Godfather of cannabis legalization.  It was a long and frustrating road, but he overcame every obstacle to help patients in need.
Whenever you're about to load your bowl with some medical cannabis to treat your illness, just remember to thank Dennis Peron for spreading the medical cannabis community.  Thanks Dennis!