Public relations is one of many business terms that is often discussed here at MakeSandcastlesNotWar.  Since I graduated from Salem State University, I gained more knowledge on the background of the subject.  The PR industry is one of the various segments of communications that is essential for businesses to survive.  Other important segments include journalism, advertising, marketing, publicity, and other forms of communications.  It is a unique field of communications that doesn't receive as much attention as it should.
As a PR practitioner myself, I am simply APPALLED at the lack of attention PR gets within the realm of communications!  The thing that most people don't realize is that public relations is just as important, if not more important, than advertising or marketing.  Advertising may be important, but your business will head nowhere if there are no PR tactics being utilized.
It's about time I explain how advertising and public relations are two different segments of communications.  Since many people confuse the two industries, here is the basic definition of what they are.  Advertising involves utilizing an audio or visual form of communication to present the IMAGE of a particular product, service, or idea that is currently being promoted.  The advertiser usually pays for the message that they have control over.  For example, the Weedmaps billboard advertisement on Revere Beach (read more on this advertisement here) is advertising Weedmaps' service of medical cannabis, dispensaries, doctors, and other cannabis-related products or services.  A billboard display presents the image of the brand name, logo, and picture of the website to the consumers.
On the other hand, public relations involves a different kind of business strategy.  Public relations deals with the REPUTATION of the product, service, or idea being promoted (you know, that thing that you worried about all throughout high school!).  The PR agenda is about nabbing free publicity for your company.  Whether it is drafting a press release or creating a newsletter, your main focus is getting that free media exposure that your business needs.  You don't pay for the coverage and you have no control over how the media will present your information.  Going back to Weedmaps as an example, PR would involve Weedmaps creating coverage about their 4/20 charity event hosted on April 20th that goes towards funding a particular cause.  This charity event boosts their reputation by showcasing the empathetic side of the company.
If that weren't enough to satisfy your answer, here's a more colorful example of how advertising and public relations go hand-in-hand.  Starting a thriving business is like creating the monster Frankenstein.  You gather up all of the components together onto the stretcher to attach your monster together.  The advertising piece is like all of the body parts being sewn together to create the IMAGE of the monster.  Body parts, screws, hair, clothing, and other essential pieces are joined together to create Frankenstein's physical image.
Frankenstein may have been sewed up together, but the real test comes after you flick the switch…and that's where public relations steps in.  Public relations is that jolt of energy firing into his brain, awakening the life inside of him.  That jolt will cause him to wake up and see the world around him.  He now wakens with his sight, hearing, visual awareness, and empathetic feelings that human beings have.  The jolt helps him walk around the room to understand what he became.  It's ALLLLLLIIIIIVVEEEE!
Just like the jolt of energy awakening Frankenstein's mind, public relations creates life to the company.  It provides all the tools within the human body in order to create an actual reputation.  Piecing the components of your business is one thing, but creating a new life out of your work makes all of the difference.  Your business will be at a standstill until you breath some life into it.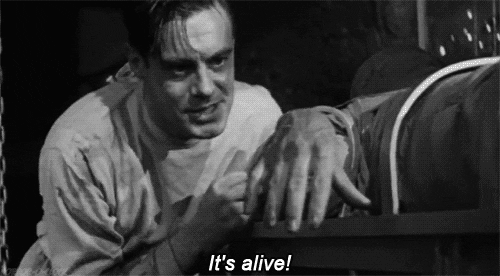 There you have it folks, advertising and public relations provide two different functions for your business.  You simply can't have advertising without public relations and vice-versa.  One works well with the other, working together to drive your business forward to a successful future.  Advertising helps promote the IMAGE of your business while public relations handles its reputation to keep it in good terms with its community.  Public relations is essential because it ignites your business to become ALIVE, just like Frankenstein!
So if you are pondering about starting a business, then just remember that public relations is one of the most critical tools of your communication process.