It was a wonderful Christmas celebration the past weekend.  I watched the Patriots win their game against NY Jets (41-3, JESUS!), ate some delicious lamb, opened up amazing presents on Christmas, and spent Christmas day seeing a movie before eating some amazing Chinese food at Kowloon.  Christmas is officially over and MakeSandcastlesNotWar is back in business.  We have 6 days left until we leap into 2017, so there's some VERY exciting news/posts coming up this week.  But for today's post, here's one more random Christmas post I had to address.
So earlier I was talking about Christmas movies with my family and we brought up Home Alone 2.  At one point, someone mentioned that they spotted Donald Trump in the film.  When I heard that, I just scoffed and thought, "yeah right!  Donald Trump in Home Alone 2? There's no way!".  Afterwards I did what any entertainment junkie would do in my position: research!
Later on I did some digging around the internet and was in COMPLETE shock with what I found.  You guys…Donald Trump was Home Alone 2!  Donald Trump, now our 45th president of the United States, made a brief cameo in Home Alone 2.  Holy…SHITBALLS!
Trump makes his appearance a little over 30 minutes into the film when Kevin first enters the Plaza Hotel.  He doesn't have much lines, but he directs Macauley Culkin towards the lobby of the hotel during the film.  During my digging for gold, I found out that Trump bought the hotel for $407.5 million back in 1988.  The Donald was STILL the owner at the time of The Plaza Hotel when the movie was being filmed.  Donald Trump made a brief cameo in Home Alone 2 back in the 20th century.  You guys… I just seriously CAN'T EVEN with this info right now!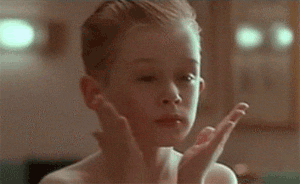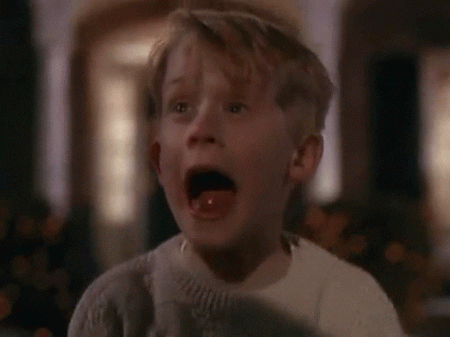 Yes… just like Kevin's famous scenes in the previous film, we're all screaming over this information.  Home Alone 2: Lost in New York continues Kevin McCallister's (Macaulay Culkin!) adventures away from his family, but this time he takes the streets of New York City.  The McCallisters were originally heading to Miami for Christmas, but their plans changed when Kevin boards a flight to New York City by accident.  It's actually great that Kevin boarded the wrong place because now we get a guest cameo from Donald Trump!
This film cameo was just so shocking that I HAD to look this up!  When I found out that Donald Trump made his appearance on Home Alone 2: Lost in New York, I was just simply flabbergasted and amazed.  It's funny how you go back to watching old films you haven't seen in while, only to discover random cameos that you never saw before!  I can't really label this as a criss-cross because it was only on just 1 film (one rule of TV/film criss-cross is that the actor/actress HAD to have appeared in a previous project before appearing in the newest one!).
We've had former presidents appear on TV/films before (Ronald Regan, George Bush, Barack Obama just to name a few!) and Donald Trump made many appearances before becoming our newest president.  It seems as though politics and La-La land intertwine every now and then, providing some entertainment for both audiences.  Whatever your thoughts are about Trump, we can all agree that he's made quite a name for himself in Hollywood before becoming our newest president.