It's been six and a half month since we lost Harambe at the Cincinnati Zoo.  The poor Gorilla was fatally shot on May 28th, sparking wide range controversy over the incident.  There were various angles revolving around the story that pointed fingers at the parents, the zookeeper that shot Harambe, the park, and even Harambe himself.  No one really agrees on how this PR nightmare ignited, but we can agree that his legacy still lives on.
Harambe has gotten so popular to the point that he received his own emoji this year.  Seriously guys…Harambe got his own EMOJI.  JUSTICE FOR HARAMBE!  He's FINALLY getting the justice he deserves six and a half months later!
Apple rolled out 104 new emojis for their users.  A gorilla emoji was one of many that were showcased, which many users are labeling as "Harambe".  This "Harambe" emoji shows a silver-grey gorilla with specks of brown hair near his eyes.  He looks as if he is crawling towards the left of your screen.  We're not sure what Harambe was looking at, but we can assume that he is looking down upon the Cincinnati Zoo for their actions.
This is just one of many dedications towards Harambe.  Gardeners at Ethos Genetics created a cannabis strain called the Harambe strain.  You guys…he got his own freakin WEED STRAIN out now!  Harambe merges three various sativa/indica strains to form the plant (strains include Gorilla Glue, Critical Skunk, and Black Fire).  It was an homage to Harambe and 10% of the proceeds are donated to non-kill animal shelters over at Colorado.  I suddenly have the urge to buy an ounce of Harambe cannabis JUST to help non-kill animal shelters (JUSTICE FOR HARAMBE…THROUGH CANNABIS!).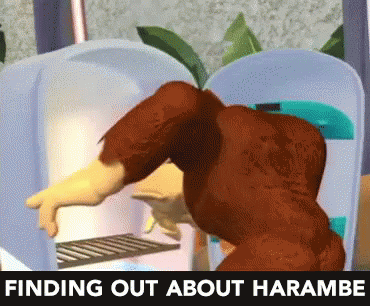 The meme of 2016 will be handed down to Harambe.  More than six months after he was fatally shot, Harambe's legacy still lives on today.  He got his own weed strain AND his own emoji for Apple.  There hasn't been word yet that the emoji will be released for the Android market, so hopefully Harambe will be compatible for ALL phones.
I think it's hysterical that this meme has gone on for so long.  These 'Justice for Harambe' and 'Dicks out for Harambe' memes have been widespread on the internet.  The Cincinnati Zoo issued a statement that they wanted the Harambe jokes to stop soon because they were still reeling in from the PR nightmare.  What's hilarious is that the internet reacted in the BEST way possible: trolling the company with MORE Harambe emojis!
In the end, it's about more than some silly Harambe memes on the internet.  Hundreds of thousands of people were outrage over Harambe's shooting and they took to the internet to share their reactions.  Social media memes are a way of people venting out their frustrations/anger over the event.  People are still dissatisfied about how the Cincinnati Zoo handled the situation, so they want Harambe's legacy to live on forever.  By refusing to obey what the employees are telling you about Harambe, you are taking charge of the nightmare that happened six months ago.
Only YOU as consumers of the Cincinnati Zoo decide how to react over Harambe's death.  With social media at hand, you can this tool to spread awareness of what happened to Harambe.  The deed may have been done, but you can start frustrating the Cincinnati Zoo with more Harambe memes on the internet.  Harambe's legacy lives on because that PR nightmare is still ingrained in everyone's mind this year.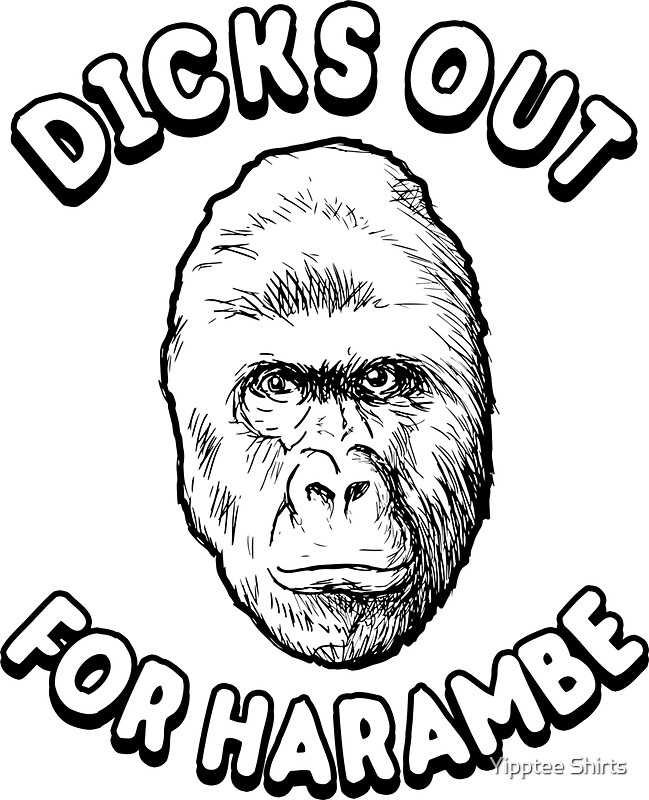 And with that I close with these statements:  My dick will ALWAYS be out for Harambe.  JUSTICE FOR HARAMBE!