The mobile market has been booming with all sorts of apps these days.  There are apps for socializing with friends, playing video games, listening to music, and other useful reasons.  Whatever your case may be, there will definitely be an app for that.  It's no doubt that the app market continues to rake in major profits from all target audiences.
Games are one of the most popular category of apps people download.  From Candy Crush to Temple Runner, thousands of games are available to install for your mobile phone.  There's always some popular game out for the app market to try out.  Nintendo announced 2 months ago about Super Mario Run being released for the mobile market on December 15th (read more about the game here).  A live-action trailer for Super Mario Run came out a few days ago highlighting the game's release.
First off, I want to give a shoutout to my fellow blogger Mike Scorpio for writing about this announcement (thanks Mike!).  I originally heard about this through his page and just had to talk about this for MakeSandcastlesNotWar.  You can find some of his latest work here.  It was truly an amazing advertisement that had to be discussed.
Now back to the advertisement itself: Nintendo released a video on their YouTube page titled 'Super Mario Run'.  The video starts off with people just starting to wake up and getting energized for the day.  At one point, their eyes light up and they start running.  These characters start running, running to some special destination.  Where were these people running to?
We continue to see more people from around the world running in the ad (it's called SUPER MARIO RUN, so that's the basis for why they are running!).  Some people start jumping and running, pulling off tricks during their performance.  A few seconds before the minute mark, we see a shadow of Mario running that is displayed onto the brick wall.
Halfway through the video, we see thousands of people start running into the same direction.  All of these people were now running through New York City, being led by Mario.  Everyone crowds around Mario to cheer him on as he leaps onto the flag set up on Times Square.  He leaps…and he SCORES!  The crowd cheers while a young boy sees Mario leaping into his mobile phone.  It ends with a title card detailing the game's release on December 15th.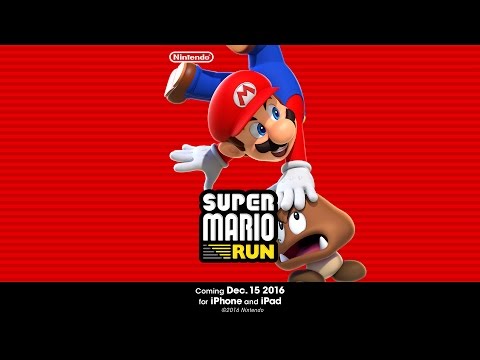 And there you have it:  Nintendo's newest ad for Super Mario Run showed thousands of people running into NYC.  This ad really got to the point about what the game was about.  It was about Mario RUNNING in the game while you tap your phone screen to make him jump or perform wall tricks.  Nintendo really summed up the main idea of the ad by having everyone run up to see Mario in the end.
This was an awesome commercial for Super Mario Run!  I really thought that Nintendo got to the point about the game mechanics.  It seems simple, fun, and I think a lot of people will really dive into this game.  I would definitely spend some good money for this game when it releases.  Mario has always been one of my favorite game franchises and I would be glad to play his newest title on my phone.
Here's to Mario for entering the mobile market later this month.  The game will definitely hit the ground running (no pun intended!) and gain lots of popularity and in the app market.  Be sure to check out Super Mario Run when it enters the mobile market on December 15th!