Over twelve years ago, Hollywood released the cult film Napoleon Dynamite.  Jon Heder starred as Napoleon Dynamite, a socially awkward teenager living in Preston, Idaho.  He lives with his older brother Kip (Aaron Ruell), an unemployed 32-year-old who spends hours chatting with girls on internet chat rooms.  While attending his first day back at high school, he makes friends with the new kid Pedro.  Pedro is a transfer student from Juarez, Mexico.
One infamous scene from the film takes place in beginning at the school cafeteria.  Napoleon comes over to sit with Pedro for lunch.  He notices Pedro had some tots and asks if he was going to eat them.  Pedro lets him have the tots and Napoleon sneaks them into his pant pocket.  This was one of most notable scenes that made the movie so popular.
Flash-forward into 2016 and we have Napoleon and Pedro eating lunch…at a Burger King!  Jon Heder and Efren Ramirez starred in a Burger King commercial that was advertising their popular cheesy tater tots.  The advertisement reenacts the popular scene from Napoleon Dynamite, with a minor twist to the commercial.  Instead of sneaking the tots into his pocket, Napoleon puts them all on his lunch tray and takes one from Efren's hand to eat it.  He slams his hand on the table in satisfaction, remarking how good the tots are.
Napoleon Dynamite developed a cult following after being released on June 11th, 2004.  With a budget of only $400,000, the film grossed over $46,000,000 worldwide.  The film also benefitted the state of Idaho after filming there for over a year.  Almost a year after Napoleon Dynamite was released, the Idaho Legislature approved a resolution commending the filmmakers for producing the film.  Not only was the film wildly popular, but it also showcased aspects of Idaho's culture and economy.  Both California and Idaho benefitted from the filming of Napoleon Dynamite.
This was a funny commercial to catch earlier!  It was great to see Napoleon and Pedro reunited on screen together again.  I watched Napoleon Dynamite more than a decade ago and thought it was hilarious.  It was such a popular film back when I was middle school and my classmates couldn't stop talking about it in school.  Other than the original comedy it had, I loved the tranquil scene of Idaho that it was shot at.  Idaho looked like a beautiful state with those big mountains shown in the background.  Watching the film a couple of times made me want to check out Idaho someday!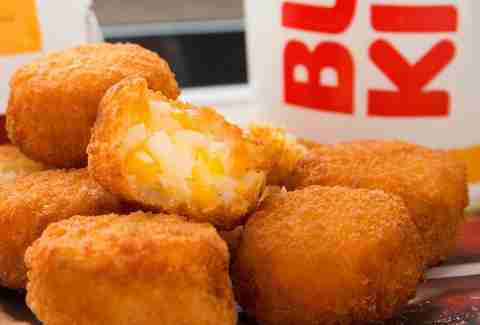 Burger King played it smart with utilizing Jon Heder and Efren Ramirez for advertising their cheesy tater tots.  Capturing the audience with the tater tot scene was a great way of using humor to convince them to check out their new product.  Humor is always a popular technique for advertising a product/service that your company has to offer.  They say that if you can a girl/guy laugh, then you can make them do anything.  Advertising has been making people laugh for decades, so they really HAVE been successful at making them do anything!  And with that, I will have to stop by Burger King someday to try out their cheesy tater tots!