It has been a crazy week in politics.  Hours after the polls closed, Donald Trump was elected to be our 45th President of America.  This has been a close race, but Trump managed to snag the last few states earlier this morning.
While Donald Trump may have become our new president, other measures were voted into the state of Massachusetts.  Question 1, the measure revolving around expanding the slot machine gaming initiative, was opposed with 61% of the votes.  People also voted down NO on question 2 (regarding the measures around charter schools), with the ending results capping at 62% rejecting the idea.  People voted favorably on question 3 with 78% voting Yes on phasing out controversial methods of farm animal confinement.  And now for the final measure we've all been waiting for….cannabis legalization.
On November 8th, 2016, MA residents voted YES on recreational cannabis use for adults 21 and over.    The tally is 54% favoring question 4 while 46% oppose of the idea. Cannabis use has been official legal in the Bay State.  It has been a long battle, but MA cannabis users can breathe a sigh of relief knowing that cannabis is here to stay.
But don't break out the Cheetos just yet!  Here are some quick facts about the new initiative:
Cannabis legalization will not go into effect until December 15th
Adults 21 and over will only be allowed to carry up to 10 oz. in their homes or 1 oz. in public
Residents can grow up to 6 cannabis plants in their own home
No delivery services are allowed
Consuming cannabis in public remains ILLEGAL, but adults can use cannabis in their home
Cannabis Control Commission will begin accepting applications for experienced cannabis establishment operations no later than October 1st, 2017.
If Cannabis Control Commission fails to adopt the regulations on/before January 1st 2018, then existing medical cannabis treatment centers may being selling recreational cannabis to people
It may seem like a long wait, but the hard part is over.  The cannabis industry will now have a major role in shaping the Bay State for the years to come.  Massachusetts isn't the only state that voted for legal recreational cannabis use.
After Massachusetts, California became the 6th state to legalize cannabis use.  Proposition 64 passed overwhelmingly with a 66% vote favoring the initiative and 44% voting no.  As of November 9th, cannabis use is fully legal in the state of California.  Note that California voted for a similar initiative with proposition 19 back in 2010, but was turned down with 53% of the votes.  This now makes cannabis legalized in the West Coast (Washington State, Oregon, and California).  Even though California is one of the largest states to legalize cannabis use, MA legalized cannabis BEFORE California (I know, SHOCKER!).
Next up on the list is Nevada.  Question 2 passed with 54% voters favoring the initiative and 46% voted no.  Nevada residents will be allowed to carry up to 1 oz. of cannabis on January 1st, 2018.  It's like they say in Sin City: what happens in Vegas, stays in Vegas (that goes for cannabis consumption now!).
Results are still being pulled in from Maine, but they will be posted once the final count is tallied up.  So far 3 states legalized recreational cannabis use, with the entire west coast legalizing cannabis as of November 9th.  This is TRULY a historic day for the cannabis industry.  Cannabis use has been legalized for adults in almost 1/5th of the country.  Not only did Massachusetts become the first eastern state to legalize recreational use, but it also legalized it BEFORE California did.  Massachusetts legalized cannabis use BEFORE California…what a day to be alive as a cannabis enthusiast!
People may still be taking in the fact that Donald Trump has become our new president, but it's clear that the real winner in this year's elections is cannabis.  Ever since Colorado and Washington state legalized cannabis use in 2012, states scrambled around to get their own initiatives together.  The dominoes started falling down in 2012 and will fall down harder over the course of these next few years.  We now live in a society where medical cannabis use is legalized in HALF of the country and a majority of Americans support recreational use.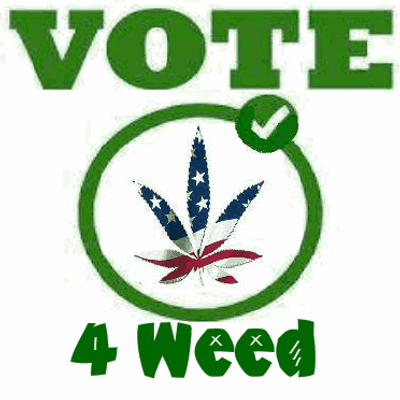 A day later and I am still BEYOND shocked that cannabis became legal in my home state of Massachusetts.  I can remember being lectured in middle school about the 'dangers' of cannabis use, with teachers empathizing the negative impact it had on your life.  By freshman year of college, my perception about cannabis radically changed for the better.  Kudos to the Bay State for taking initiative legalizing cannabis!  It's a bummer that dispensaries won't be around until 2018, but we'll just have to wait a bit more before we can get our hands-on retail cannabis.
California will also become a more desirable travel destination in the future once dispensaries hit the shelves.  Legalizing cannabis in Nevada will bring about a whole new definition of the term, "what happens in Vegas, stays in Vegas".  This is truly a game-changer for the cannabis industry, paving the path for what would be one of the top-growing industries of America.
What does this election say for Americans?  Cannabis is here to stay and prohibition is slowly becoming a thing of a past.  It's surprising to think at one point a majority of Americans believed that cannabis should remain illegal in the country.  Those number are dwindling and support for cannabis use is skyrocketing each year.  With that, I'd like to end with a special statement:
In Pot We Trust, God Bless Marijuanamerica.  YES WE CANNABIS!
Update:  Maine legalized recreational cannabis use just a few days after the elections ended.  Kudos to Maine for joining CA, MA, and NV on the newest initiative!  It'll be quite a year for cannabis these next few years!