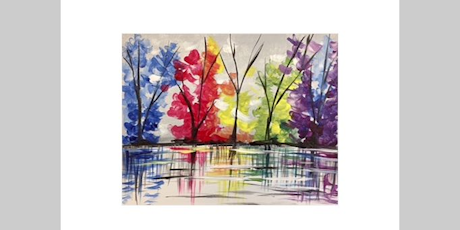 Last month I went to Breakaway for the PRSSA 'Painting Under the Influence' event.  This was my first time going into the restaurant, so naturally I was curious about what food and drinks they had there.  Breakaway served the typical pub food like burgers, pizza, pasta, chicken tenders, and other good things to eat for dinner.  The restaurant also provided some interesting craft beers to choose from for your meal.
One drink item on the menu that stood out to me was a 'pumpkin-spiced beer with sugar rim'.  Reading the order made me curious to try it out, so I ordered the drink with Shipyard Ale before heading to the paint room.  As I sat down towards my easel, I had some sips of what would be the BEST thing I ever tasted that night.  Drinking Shipyard Ale is one thing, but this drink order was AMAZING.  I didn't know which part I liked better: the Shipyard Ale itself or the light-brown cinnamon sugar that was coated on the glass.
Now I'm sure this drink order has been out for a while, but this was the first time that I tasted this masterpiece.  Here's how the order works: you order a pumpkin-spiced ale (whether it be Shipyard Ale or Sam Adams Oktoberfest).  The waiter/waitress will ask if you want the sugar-coated rims, which is what you are looking for with the order.  Only thing left is to take a sip and enjoy the cinnamon-sugar coat on your favorite pumpkin-spiced beers.
I love drinking pumpkin-spiced ales during the fall, but this simple idea raised the bar even further.  This is one of those simple marketing techniques that is cheap and would be popular among customers.  It involves one of the most basic ingredients (cinnamon sugar) and makes the drink taste that much better.  Honestly, I would compare this awesome technique to providing whipped cream and a cherry on top of a hot-fudge Sundae.  Even though I am not a kid anymore, I would still enjoy some desert with my beer.  Other restaurants I have been to that provide this option were Renzo's in Revere Beach and the Porthole Restaurant on the Lynnway.
If you go into a restaurant that provides this amazing option, I HIGHLY recommend getting it.  Drinking pumpkin-spiced ales with cinnamon sugar coated rim is a sugary experience that you will never forget.  All cinnamon lovers should drive over to the nearest pub/restaurant for this tasty brew order.  While we have a month and a half left of fall, I would love for this drink to be available for the winter (I just love it THAT much!).
This was an amazing drink order I just had to rave about for everyone.  Not only is the order delicious, but it's an excellent way for promoting pumpkin-spiced ales within the food/beverage industry.  Little things like coating glasses with cinnamon sugar are what will drive more customers into your restaurant/bar.  People usually order Margarita with sugar-coated rims, but this idea would target audiences that love pumpkin-spiced ales.
If I were a customer at a restaurant that served this option, I would definitely come back to the place.  Excellent customer service is always great, but the cinnamon-sugar coated rims go the extra mile in terms of creativity.  I now have a new favorite thing I look forward to in the fall: pumpkin-spiced ale with cinnamon-sugar coated rim.