In less than a month, we will decide between two candidates on who will become the next President of the United States.  Tensions have been flaring between two parties, with both parties calling each other out over controversial events.  The thing that most people would agree on is that both candidates received the lowest rating of approval in this year's election.  There is even a petition calling for both candidates to be scrapped from the ballot to vote for new candidates this year.
While this idea wouldn't be happening any time soon, it's shocking to see such low approval ratings between the democratic and republican nomination.  What's even more staggering is the slew of negative responses of this year's republican candidate from the republican party.  If there was a decision to scrap both candidates, it would be interesting to see what candidates would be placed on the ballot.
MakeSandcastlesNotWar presents topics within the entertainment industry, especially with what plays out on the silver screen.  The silver screen has graced us with some colorful characters that we will never forget.  Some of these characters could be a better choice to be nominated for President.  Here are some interesting choices for presidential nomination from MakeSandcastlesNotWar:
Frank Underwood, House of Cards
Before Hillary and Trump were campaigning for their nominations, there was a colorful president that we just had to binge-watch on Netflix: Frank Underwood.  Played by Kevin Spacey in House of Cards, Frank Underwood is a no-nonsense political figure who conducted every underhanded tactic to get what he wanted.  He wasn't satisfied with being a senator, so he worked his ass off to climb all the way to the top as President.
Cutting off ties with old friends was just the tip of the iceberg when it comes to Frank's corrupted tactics in the White House.   Frank Underwood is one selfish and self-centered to watch (his initials are F.U., so that should say a lot about him!).  It's already been a dirty game the past few years and Frank Underwood would fit right in with the political atmosphere.
Olivia Pope, Scandal
People say politics is about spinning the story towards their favor and no one knows better than about spinning stories than Olivia Pope.  Kerry Washington stars as Olivia Pope, a crisis manager of her firm Pope & Associates.  Pope works with her co-workers, a.k.a her "gladiators", who work to solve crises within the White House.
We could really use someone who would solve the most complex crises here in America and Olivia Pope would be just the right fit.  If Pope ever thinks about retiring from Pope & Associates, she could always try to land a spot solving crises as President!
Don Draper, Mad Men
During this time of anxiety and confusion, we could really use someone who keeps himself calm and collected in times of chaos.  Don Draper would be just the right man who can keep Americans relaxed when things start to get tough.  Jon Hamm won numerous awards as Don Draper, a creative director for Sterling Cooper who later became a founding partner of Sterling Cooper Draper Pryce.  He worked on various ad campaigns that sold thousands of products to customers.
As a mad man in Manhattan, Don knows the trick in selling products in a way that appeal to all audiences.  Not only would Don Draper make a calm and collective President, but he would be a whiz in creating political ads for his campaigns.  If you ever need someone to create appealing political advertising, Don Draper would be the mad man for you!
Nancy Botwin, Weeds
Various states are aiming to legalize cannabis this year and what better President to lead the cannabis culture than Nancy Botwin?  Mary-Louise Parker stars as Nancy Botwin, a weed dealing suburban mother who does anything she can to support her sons Silas and Shane.  From slinging weed to marrying the mayor of Tijuana, Nancy Botwin has pulled every trick in her web of lies during her crazy escapades.
At one point she worked at a department store where a tunnel was built underground connected to Tijuana (which actually became a REAL thing!).  Many Americans now favor the idea of legalizing cannabis, so Nancy Botwin would be the ideal candidate for leading America to a greener world.  Silas and Shane could also have important roles in cannabis regulations within each state.
Frank Gallagher, Shameless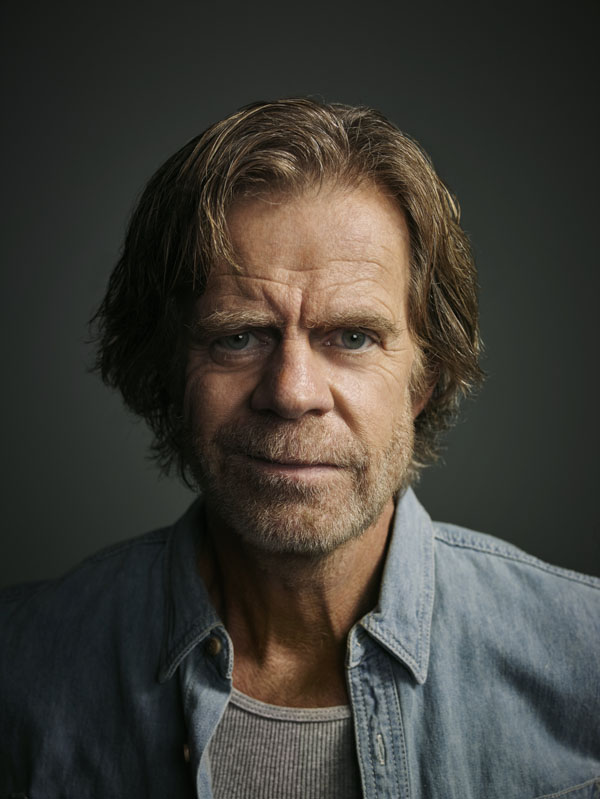 People are becoming so fed up with the amount of problems we face this year: a shrinking middle class, more unknown diseases crossing into the country, universal healthcare with skyrocketing costs, and a huge surge of heroin use that has quadrupled since the 1990s.  It just seems as though America has become so shameless the past few years.  If we want to continue this shameless path, we will need Frank Gallagher to lead the way.  William H. Macy stars as Frank Gallagher, father of six kids in Chicago.  Even as a shameless alcoholic, Frank usually spouts his political and social concerns about the country.  His political slogan? Frank Gallagher: Make America Shameless Again.  A vote for Frank is a vote for a shameless four years.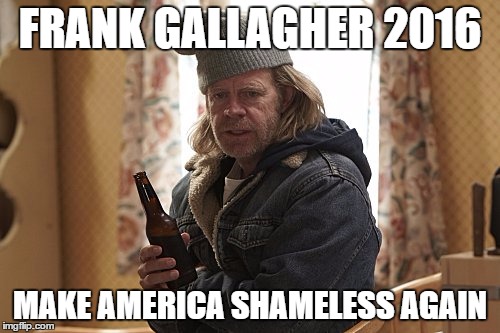 Honorable Mentions: Harambe
JUSTICE FOR HARAMBE!  But in all seriousness, Harambe could be the animal candidate since human beings haven't been getting their act together.  After being fatally shot in the Cincinnati Zoo, Harambe's legacy still lives on to this day.  A group of baboons happens to be called a Congress, so Harambe would have a shot in the political world.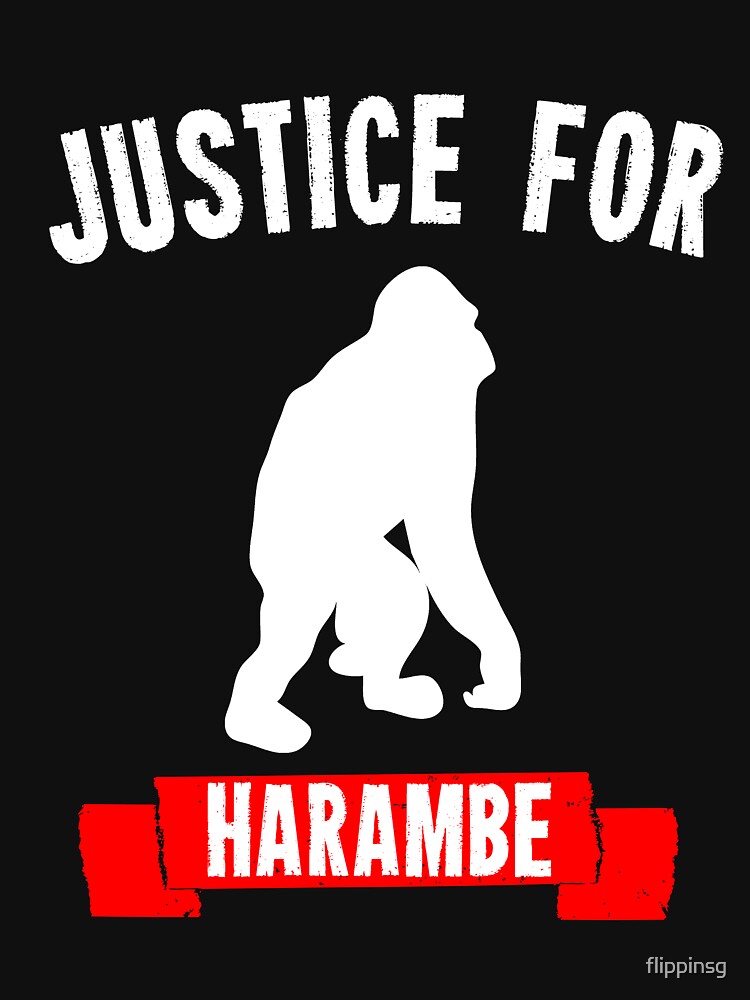 His stance would involve more bananas to be harvested and less cruelty towards gorillas all across the country.  Voting for Harambe would do justice for him and the other gorillas who wish to be free.
Honorable Mentions: Ken Bone
Ken Bone isn't a fictional character, but he became an internet sensation after being on TV.  His Izod red sweater just oozes with innocence and his question was just absolutely amazing.  The best part about him?  Watching him take pictures of the debate…with a disposable camera!  If we really could scrap both candidates, my vote would go towards Ken Bone.  With all of the complex problems we are dealing with, we really could use an innocent man like Ken Bone for president.