With all of the excitement over the latest crossover references occurring on American Horror Story, I forgot to mention our newest monster for the season.  We caught a glimpse of him during episode one, but his identity was later revealed in episode 4.  This season's new monster is…the Piggy Man!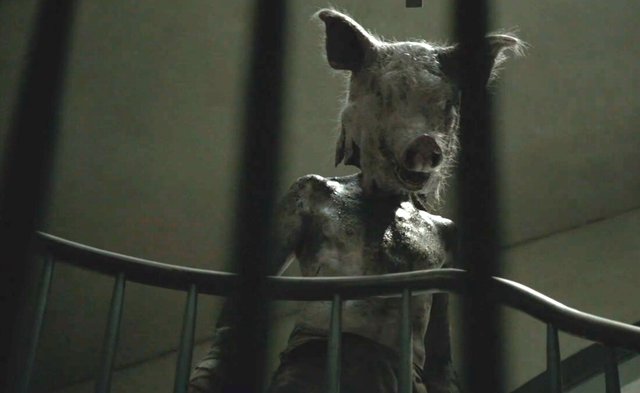 Our new monster for American Horror Story: My Roanoke Nightmare is Piggy man, a man wandering around wearing a pig's head and carrying a butcher's knife with him.  There was a reference to Piggy Man back in American Horror Story: Murder House when Derek discussed his fears of bringing Mr. Piggy out by chanting the catchphrase, "here piggy pig pig" on the mirror three times.  Five seasons later and he has now become our horrific monster to watch this year.
Now that the monster has been revealed, it's time to take a look back at some of the best monsters from the former seasons.  Here are the top 5 monsters that have graced their presence in the American Horror Story universe:
5: Bastien/The Minotaur – American Horror Story: Coven
The Minotaur, also known as Bastien, was Marie Laveau's lover and former house slave of the LaLaurie family.  He was kept shackled by Marie during the present time and later started to turn into an actual Minotaur.  Bastien was ordered to kill Delphie, in which Delphie fought the beast at the greenhouse.  This may have been a strange minotaur/human combination for the 3rd season, but his appearance was only short lived.  Still, his disturbing background as a slave gives me chills thinking about him.
#4: Dr. Oliver "Bloodyface" Thredson – American Horror Story: Asylum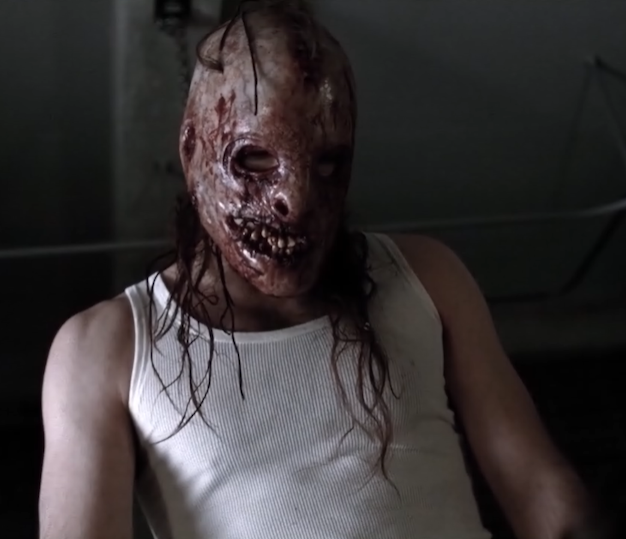 After leaving the Murder House, we visited the clinically insane at Briarcliff Manor in American Horror Story: Asylum.  Dr. Oliver Thredson was a psychologist who worked with Lana on her Aversion Therapy.  A week later, Dr. Oliver Thredson took Lana back to his house…where things just got even worse.  Just when you thought you have seen every evil character at Briarcliff Manor, Dr. Oliver Thredson reveals to be the real Bloodyface.  Dr. Oliver/Bloodyface really creeped me out when he revealed his household products that were made from human skin (seriously, HUMAN SKIN) and when he took advantage of Lana while wearing his Bloodyface mask.  His disturbing confrontation with Lana puts him at #4.
#3: The Rubber Man – American Horror Story: Murder House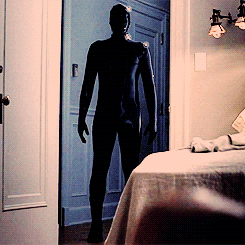 It's the pinnacle scene in American Horror Story: Murder House that started it all – a man donning a rubber suit enters Vivian and Ben's bedroom while Vivian gets ready to go to bed.  The masked rubber man climbs into bed with Vivian (who thought it was Ben the whole time…but it wasn't!).  After the scene ends, Ben enters the bedroom while Vivian looks away in confusion.  What's even more surprising is that Vivian ends up being pregnant with a baby…and it's NOT Ben's!  This disturbing scene on the very first episode of American Horror Story puts The Rubber Man on #3 of the countdown.  Leave it to Ryan Murphy and Brad Falchuk to make an innocent sex fetish into one disturbing murderer.  I'll never look at that rubber suit the same way again.
#2: Twisty The Clown – American Horror Story: Freak Show
Move over Pennywise – there's a new scary clown on television!  Twisty the Clown freaked everyone out when he took some people hostage in American Horror Story: Freak Show.  The freakiest thing aren't the random killings he sets out for, but rather the horrific backstory of what's revealed behind his mask.  Clowns are scary enough in this world, but Twisty took things to a whole another level when he terrorized the residents of Jupiter.  Twisty clowning around with his horrific acts put him at #2 of the monster countdown.
#1: The Addiction Demon – American Horror Story: Hotel
It's finally arrived – the scariest/disturbing monster of all time is…the Addiction Demon!  Upon checking into Hotel Cortez, we are introduced to the Addiction Demon in the first episode.  Episode one set us up for what would be one of the most disturbing scenes involving Gabriel, The Addiction Demon, and a strap-on metal dildo.  The Addiction Demon came into Sally McKenna's life in the 1990s when she was with friends with some good musicians.  After a strange sexual/drug-fueled scene, the Addiction Demon takes a hold of Sally and becomes a part of her life.  His disturbing scene with Gabriel may have been gruesome, but it was his overall appearance that put him #1 as the most disturbing/scary monster of all time.
And with that, our countdown of disturbing monsters concludes!  All that is left now is to wait for more disturbing monsters to appear in the American Horror Story universe.  What are your thoughts on this countdown?  Were there any monsters scarier/more disturbing than the Addiction Demon?  Feel free to make your own lists to share with everyone!  In the meantime, check out the newest episode of American Horror Story: My Roanoke Nightmare tonight at 10 PM on FX.