The 2nd presidential debate aired on Sunday night, with tensions rising as election day comes close.  It's the never-ending battle between democrat Hillary Clinton and republican Donald Trump for the chance to become president of the United States.  Who will reign champion as the next president?  There were lots of interesting points brought up from both parties, but only one candidate will be able to win the seat in November.
But while everyone was glued to Hillary and Trump's ideas for America, there were a few highlights that occurred during the debate.  One involved a random fashion faux pas while another guy looked fashionably incredible when he asked his question for the presidents.  It was these two highlights that broke the internet worldwide just hours after the debate.  Here are some moments that broke social media the next day:
Melania Trump 'Pussy Bow' Fasion Faux Pas
Everyone looked amazing with their snazzy suits and formal dresses during the debate.  The Donald had on his formal suit with his signature over combed hair while Hilary donned her black blouse with a white V-neck collar.  Both the presidents looked fabulous, but all eyes turned to Melania Trump when she came out on stage.  Melania donned what was known as the 'pussy bow' blouse while watching the candidates.
The 'pussy bow' blouse was created by Gucci and is named as 'Pussy-bow silk crepe de chine shirt'.  This fuchsia style blouse is made from Italy and was cut from silk crepe de chine for that languid drape, costing $1,100 to purchase.  It would be a chic way for elevating an office or weekend look.  Earlier this blouse caught fire over the name 'pussy bow' due to Trump and Billy Bush's misogynistic conversation about women, but the price itself for the dress is simply outrageous.
But wait just a minute!  Haven't we seen this kind of fashion faux pas earlier this year?  Oh wait that's right…Hillary's infamous lambskin jacket that was made by Giorgio Armani!
Remember back in April when Hillary gave a speech about equal pay in the workforce?  It was the Giorgio Armani jacket that stole the whole show, not the actual speech!  Since when did we establish a red-carpet type premises for our political agenda?  First it was the lambskin jacket, now the hip new fashion piece is the 'pussy bow' blouse that Melania wore (which she shelled out $1,100 for!).  All humor aside, it seems clear why our audiences have become so lost in terms of connecting with our potential candidates.
Ken Bone: The Average American, The Myth, The Internet Legacy
During the debate, audiences are encouraged to ask their burning questions to Hillary or Trump.  People are anxious about how the candidates will tackle some of the most complicated issues in the world, so this is the chance for them to have their questions answered.  One man stood up to ask his question and became an internet sensation the very next day.
Meet Ken Bone, an operator at a coal plant in Illinois who was undecided about which candidate to choose from.  He asked a question regarding the steps their energy policy will take to meet the energy needs while at the same time minimizing the job layoffs and remaining environmentally friendly.  But it wasn't the question that had all eyes on him – it was his outfit that has everyone losing their shit on social media.  Bone donned a red cardigan sweater, a white tie, and wore black-rimmed glasses.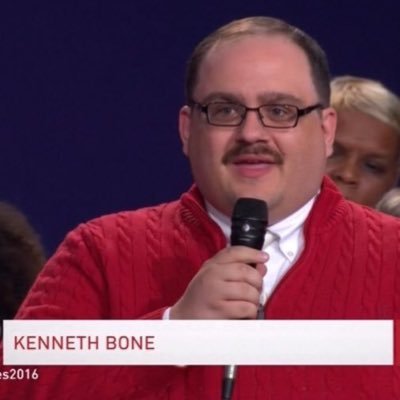 The best part about Ken Bone?  He took some photos of the set after the debate…with a disposable camera!  Taking photos of the set with a disposable camera…it's just TOO much!  I just CAN'T EVEN with this social media gold.
Is there some way we can throw out all candidate nominations and just elect Ken Bone for president?  He is everything that America needs right now in a time of anxiety and confusion.  Ken Bone isn't just a regular operator at an Illinois coal plant – he has become the newest social media sensation this week.  Kudos to the new internet legacy that will be Ken Bone.  Just for the record, Ken Bone sounds like some badass name you hear on a blockbuster super hero film.  Ken Bone: the man, the myth, the new internet hero.