It was a typical night last Friday: sitting around at home, binge-watching the latest season of Bones on Netflix.  I was on the latest season after it was released on Netflix in September, waiting to see the latest chapter of the hit FOX series.  While on the fourth episode, titled 'The Carpals in the Coy-Wolves', I noticed something familiar about the actor that was portraying Chris Winfelder.  After conducting some research on the Internet Movie Database through my phone, I was shocked at the results I was given.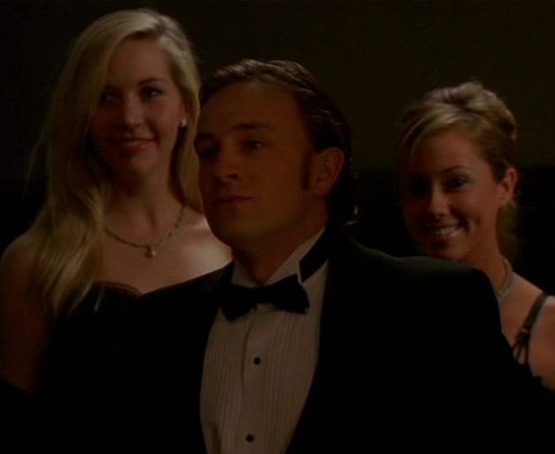 What I found during my findings was that Tom Lenk, the actor who plays Chris Winfelder, was also Andrew Wells in Buffy the Vampire Slayer.  Why is this so relevant all of a sudden?  Tom Lenk and David Boreanaz were BOTH in Buffy the Vampire Slayer WAY before crossing paths again in Bones!  The other piece that makes this more surprising is that Tom's character Andrew Wells makes an appearance in the spin-off series Angel.  Tom Lenk and David Boreanaz have crossed paths WAY before appearing on-screen together in Bones. Actor criss-cross!
Bones is a crime procedural drama that premiered on FOX on September 13, 2005.  Each case utilizes forensic anthropology and forensic archaeology to solve the murder of the victims.  David Boreanaz stars as Seeley Booth, an FBI Special Agent who works with forensic anthropologist Dr. Temperance Brennan (played by Emily Deschanel).  The remaining main cast includes T.J. Thyne, Eric Millegan, Michaela Conlin, Tamara Taylor, Jonathan Adams, John Boyd, and John Francis Daley.  The eleventh season concluded on July 21st and was streamed on Netflix on September 30th, with the next season premiering in early 2017.
Tom Lenk grew up in California and attended UCLA for his Bachelor of Arts degree.  It wasn't until 2001 where he made his appearance as Andrew Wells in Buffy the Vampire Slayer.  Earlier it was hinted that Andrew Wells was gay in the series, which was later revealed after Lenk came out in The Advocate.  Joss Whedon remarked that Andrew Wells would be gay when Tom Lenk was casted into the role for the show.  Lenk's other roles after his work with Buffy the Vampire Slayer include the young poet on Six Feet Under, Scott in How I Met Your Mother, and as Corey in Nip/Tuck.
This was a fun and random criss-cross I ran into while watching Bones last week!  I spent a few minutes looking at Chris Winfelder to realize who he was.  When watching old and new series, it's always interesting to see what familiar faces will turn up again on the silver screen.  It was just a few months ago that I recognized Evan Arnold in Aquarius, who also happens to be Leonard in the series finale of Mad Men.  Finding random criss-crosses makes it that more fun to watch TV series that you have not heard of.  If there is a great actor from a popular TV series, chances are that he was in other underrated hit series that you have never heard of.