Last night was the premiere of the 68th primetime Emmy Awards – a celebration of the greatest TV shows to air this year.  All of the actors/actresses line up on the red carpet near the Microsoft Theater donning the most fashionable clothes made from designers such as Oscar de La Renta, Ralph Lauren, Christian Dior, Marc Jacobs, Vera Wang, and many other notable fashionistas.  After the red carpet special extravaganza, the battle is set to see which TV series takes home the most Emmys.  Who ended up winning the most Emmys for 2016?  What are the memorable events that everyone is talking about on social media?  Here are some highlights from the 2016 Emmy awards.
Sarah Paulson + Holland Taylor 4EVER
While Holland Taylor wasn't joining her partner Sarah on the Red Carpet, the duo still make the most adorable couple.  Taylor was at home in Manhattan, live-tweeting her thoughts about Sarah Paulson being on the Red Carpet and all.  It wasn't until she saw Sarah's shiny green dress on TV where she absolutely LOST it on Twitter.  She was in such awe of how beautiful she looked and was even given a shout-out from her partner.  In the end, Sarah and Holland set new standards for relationship goals in life.  I guess what they say is true – absence makes the heart grow fonder!
Stranger Things Appear from the 'Stranger Things' Kids
At one point of hosting, Jimmy Kimmel talked with his mother onscreen about what she is making for dinner tonight.  Kimmel's mother remarked that she was making PB & J sandwiches for attendees (about 7,000 in total!).  If that wasn't cute enough, the sandwiches were hand-delivered in brown bags by none other than the kids from Stranger Things!  Millie Bobby Brown, who dressed up as Eleven from the Netflix series, rode on her bike down the carpet to hand out PB & J sandwiches to the attendees.  Millie was joined by her co-stars Caleb McLaughlin (Lucas) and Gaten Matarazzo (Dustin) for the stunt.  It was a moment too cute to miss during the Emmys!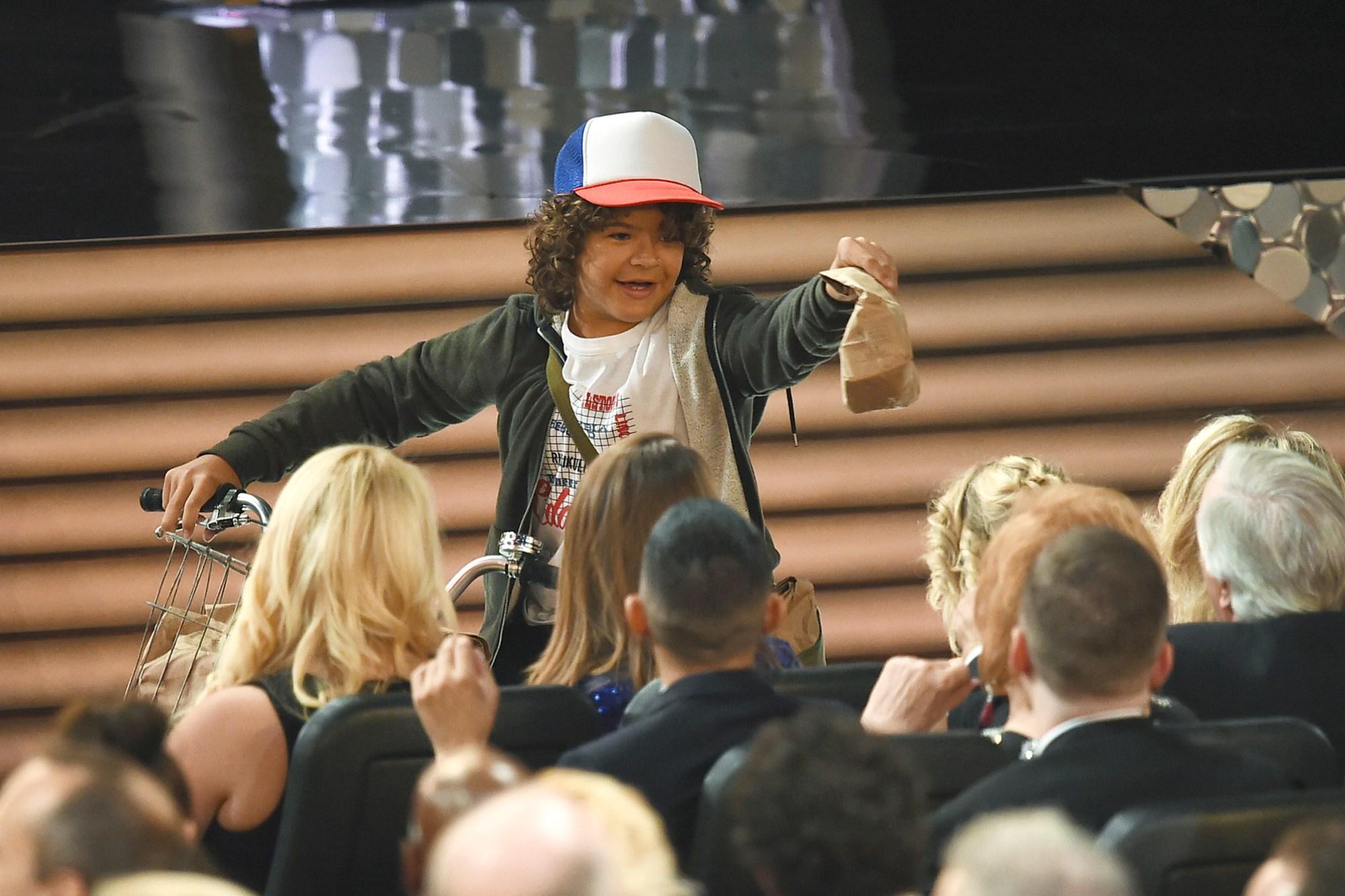 Grease: Live Over Beyonce's Lemonade?
The category was for Outstanding Directing for a Variety Special and it was between Grease: Live and Beyonce's Lemonade.  And the winner of that award was… Grease: Live.  That's right, Beyonce's Lemonade special on HBO was upstaged by a live performance of Grease.  The Lemonade fanatics are beyond shocked that the special didn't win the award, causing an uproar over her loss.  You can't win em' all, but you certainly can tweet your heart out about why Beyoncé should've deserved the award.  To all of the single ladies…tweet out your support towards Beyoncé!
Most Trophies Awarded – People vs. O.J. Simpson
The show that won the most awards this year was Ryan Murphy's The People vs. O.J. Simpson: American Crime Story.  Murphy's popular crime series won 9 awards, three of them went to the cast of the series.  Sarah Paulson, Courtney B. Vance, and Sterling Brown all took home awards for their hard work onscreen.  Kudos to Sarah Paulson for her outstanding work as Marcia Clark for the series!  She was amazing as hypodermic Sally in American Horror Story: Hotel and she certainly deserves the award for portraying Marcia Clark.
Game of Thrones Breaks the Emmy Record
Brace yourselves… more awards will be taken home by Game of Thrones!  HBO's Game of Thrones won even more awards today, but they achieved something even greater: breaking the record for highest number of Emmys won by any fictional series.  The popular fantasy drama series on HBO now stands at 38 awards won, beating the previous record set by Frasier with 37.  Slaying all of those dragons was worth it in the end because the reward was the 38th Emmy award won and making TV history after setting the record.