Three months ago, Sega announced the release of the Sega Mega Drive Classics Hub on the Steam console.  This nostalgic blast into the past featured hundreds of classic Sega titles that players could purchase for their virtual library.  Gamers were transported into what looked like a kids' bedroom from the 1990s with an old CRT-TV to play their favorite games.  Sega really nailed it with their ingenious marketing strategy, but now they announced something even better.
Sega officially signed off on releasing the Mini-Sega Mega Drive Console.  Designed to look like the classic Sega Mega Drive console from the 1990s, Sega's newest console features two controllers and over 80 games pre-installed into the hardware.  The device even provides a cartridge slot so that you can dust off those old games you stored away all these years!  This device will also provide features such as becoming a Plug & Play for your TV, AV Cable, AC adapter, and the beloved Sonic the Hedgehog games that made Sega the company it is today.  Fans can expect to get their hands on the Mini-Sega Mega Drive Console starting in October.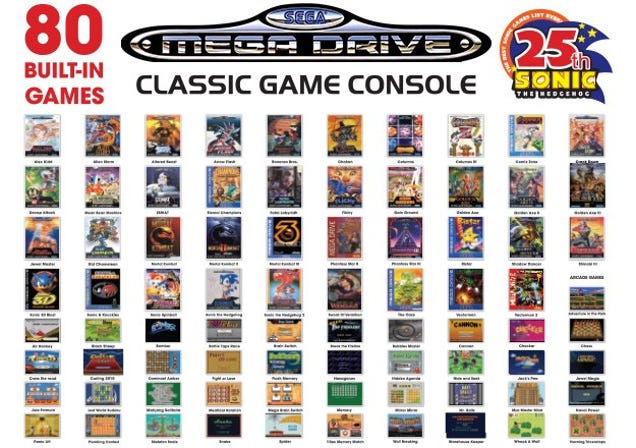 The Mini-Sega Mega Drive Console isn't the only surprise for 90s gamers.  Sega will also be releasing the Ultimate Portable Game Player Handheld Console.  This Sega-branded handheld features an SD card slot to play ROMs on the go.  Just like the Mini-Sega Mega Drive Console, the portable handheld system comes with 80 games installed.  Other than the similar features stemming from the mini Mega Drive device, the handheld system will include a USB charging cable when you run out of battery.
90s gamers will be sure to enjoy from the myriad of timeless classics featured into the devices.  Titles featured will include Altered Beast, Golden Axe, Sonic the Hedgehog, Mortal Kombat, Jewel Master, and many other classic games to choose from.  Sega fans are sure to enjoy this virtual blast from the past right into their own homes!
With all of this 90s nostalgic excitement, it's interesting to note that Sega isn't the only company peddling this marketing strategy.  Nintendo initiated the strategic bandwagon with their release of the NES Classic Mini.  The NES Classic Mini is a mini Nintendo Entertainment System packed with 30 of the most treasured games to play.  This cute design idea fits into the palm of your hand and comes with an HDMI port to plug into a modern TV.
A freshly manufactured NES game pad will be redesigned to capture that old-school feel of the device.  Nintendo fans can expect to grab their hands on the device on November 11th for only $60.  While you can't insert your old games into the cartridge slot, gamers can play from one of 30 games stored into the on-board memory.  Classic titles to choose from include Final Fantasy, Balloon Fight, Metroid, Super Mario Brothers, The Legend of Zelda, Pac-Man, and lots of other great games.
It'll surely be an interesting Christmas season this year.  Millennial gamers will want to ask Santa for either the Mini- Sega Mega Drive Console or the NES Classic Mini.  Either way, both companies are paving the right paths to reach out to both the 90s gamers and modern gamers that haven't even played the old console yet.  Both audiences are being tapped and both will surely be getting the most bang for their buck.
More than twenty years later and the classic console still rages on!  Who will reign as the top console in this year's holiday sales?  Will Sonic the Hedgehog help ring in more Sega sales?  Could the Mario Brothers prove once again that Nintendo will be the dominant home console in America?  Or maybe the Tickle Me Elmo will become re-branded as the surprising new toy that all soccer moms want to get their hands on.  The classic console war will resume once again in this year's holiday sales event!
Sega and Nintendo are really hitting home runs with their unique product strategy!  Other than creating new titles for existing games, both companies are tapping into the millennial audience that are nostalgic of their favorite home console.  I have played the Sega Genesis long before Steam started cranking out Indie games, but Nintendo was always be my home console of choice each time.
Who knows what's in store for the timeless home consoles we grew up with in the decade of snap bracelets and Nirvana.  Could we see a mini SNES console in the works with hundreds of games installed into the device?  I for one would gladly put my hard-earned money towards that product!  We may be pushing farther into the future, but we will always be nostalgic of our treasured consoles we grew up with.  In the end, we can never really understand our future until we learn about our past.